CSS Alabama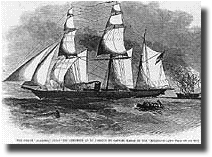 This is a work in progress:
CSS Alabama.
The most powerful of all the Confederate Raiders, Alabama started her life at the Birkenhead shipyard of John Laird and Sons, known as keel No 290.
On behalf of the Confederacy, on the 1st of August 1861, James Bulloch had signed a contract for 47,500 Pounds with this quite famous Liverpool shipbuilder for them to build this largest of all the Southern Armed Merchant Cruisers.
Alabama, was to be unique, of 1,040 tons, 220 feet long, with a 32 foot beam, her coppered hull only drawing 15 feet fully loaded. The specifactions called for two horizontal engines which rated at 300 horsepower, could develop 1000 horsepower.
Her armament was to be powerful, a 7 inch 100 pounder rifled Blakely gun ( a rifled barrel ensured greater accuracy in delivering a shell onto its target ) an 8 inch smoothbore 86 pounder, and 6 by 6 inch 32 pounders.
She was designed as a bark, carrying long lower masts to ensure maximum fore and aft sails, the rigging to be all wire construction, and the screw made to retract, so that it did not cause drag and slow the ship down.
All in all, she should be a fast vessel under both sail and steam, an ideal Raider, that would relish being at sea under all conditions.
James Dunwoody Bulloch, Confederate agent in England, he was the driving force in having Florida and Alabama built in English shipyards and then getting them to sea to fit out as Raiders.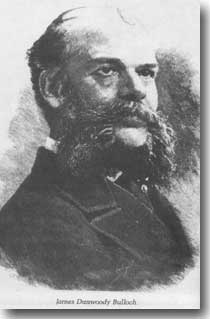 Bulloch wished to disguise her real owners, he knew that the American Consul Thomas H. Dudley and his spies would come sniffing around.

On the 15th. of May 1862, keel No 290 was launched, bearing the name Enrica.

Dudley recalled Florida was built as Oreto, but he could not furnish any proof that Enrica had broken any British law, on Bulloch's mind was the fact that he could not arm his new Raider in English territorial waters. To this end, for 1,400 Pounds he bought a 350 ton bark Agrippina, moving her to London docks wher she was loaded with guns, clothing, stores, ordnance and 350 tons of coal.

Dudley's agents were prowling around the Liverpool docks whilst down in London, Agrippina was not attracting any undue attention at all.

A crew for the weapon carrier was needed, of British register, her Captain would have to hold a Board of Trade Certificate, and after interviewing a number of potenial candicates, Bulloch appointed Matthew J. Butcher to take command, enlist a crew, and prepare for a voyage to the West Indies.

But Butcher alone, knew his final destination was indeed elsewhere.

Civil War P41.

After Bulloch had successfully built Florida and got her away to sea, Secretary Mallory had virtually promised him that he would be appointed to command Alabama on her completion.

Steven Mallory Confederate Secretary of the Navy
But Mallory now considered Bulloch was far too valuable in his capacity in England, that could not be spared , so, to the total disappointment of Bulloch, he received the information from his Secretary of the Navy, that Semmes who had performed so well as Captain of Sumter would get this prize command of Enrica, who on sailing would become Alabama.

Bulloch took this information with good grace, and continued to serve his country's cause to the utmost of his considerable abilities.

It was time for Enrica to depart the Liverpool scene, Dudley and his agents were getting close to the truth about this vessel, he had already petitioned his Minister to England, Charles Adams, who in turn was chasing the Foreign Minister, Lord Russel to act. On his command, English Customs officials had visited Enrica, but could find no reason to detain her, and reported this fact to Russell.

Bulloch realised he had to get this ship to sea, and quickly.

On the morning of the 28th. of July 1862, escorted by the tug Hercules, she went to sea for trials, Bulloch had invited a party of both sexes to join him and his wife in the tug to observe the trials, enjoy a luncheon, champagne and dancing.

Charles Francis Adams. Unites States Minister to Great Britain.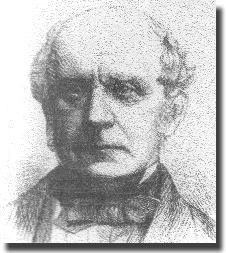 In the late afternoon he asked his guests to return to shore in Hercules, it being necessary for Enrica to stay at sea during the night to complete some important trials, Captain Butcher was ordered to meet Bulloch the next day at Moelfra Bay off the Isle of Anglesea, Wales.
During WW2, when I was serving in HMAS Australia over 1940/1941, we had on several occasions picked up convoys here at Moelfra Bay, for escort across the Atlantic. Reading about Bulloch and his actions from so long ago, brought back nostalgic memories for me of Liverpool during the Blitz late in 1940, and of the convoys we escorted, both in and out bound, during those turbulent times when Britain, and indeed the free world was fighting to survive.
James Bulloch asked the tug Captain to meet him at Woodside Landing on the Mersey River next morning, where he had organised 30/40 seamen to crew Enrica, to wait. On that morning, on his arrival at the landing, Bulloch was indeed suprised to view as many women as there were men. They were there to ensure that their husbands' signed their articles for the forthcoming cruise, but more importantly that they got their hands on the first month's wages. Now they insisted on boarding the tug, and being fed before farewelling their respective spouses, very wisely Bulloch ensured sufficient alcohol was supplied to wash down the meal.
Civil War P42.
By 1630 ( 4.30PM ) the tug joined Enrica, and Bulloch went aboard this potential new Southern Raider, although the weather was bad, the ship steamed off into the Irish Sea, and by the following morning, the pilot had her off the Giant's Causeway Northern Ireland, Bulloch and the pilot disembarked, and took a room for the night at the Antrim Inn.
Lord John Russell, England's Foreign Minister.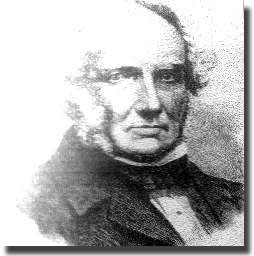 Bulloch although relieved to have managed to get his ship away, was still filled with uneasiness, and recorded his thoughts thus:
"During the evening it rained incessantly, and the wind skirled and snifted about the gables of the hotel in fitful squalls. Bond and I sat comfortably enough in the snug dining-room after dinner, and sipped our toddy, of the best Coleraine malt; but my heart was with the little ship buffeting her way around that rugged north coast of Ireland. I felt sure that Butcher would keep his weather eye open, and once clear of Innistrahull, there would be plenty of sea room; but I could not wholly shake off an occasional sense of uneasiness."
On his return to Liverpool on the 3rd. of August Bulloch learned he had judged the time to get Enrica away superbly, just hours after she escaped, Dudley had obtained an order from the British Government to seize her.
Portraits of seven officers who served with Semmes in Alabama, Line Egraving.by H.B.Hall Jr of New York. In the centre, Lieutenant Richard F. Armstrong, then clockwise from the top: Lieutenat Arthur Sinclair IV, Midshipman Eugene A. Maffitt, Midshipman Edwin M. Anderson, Master's Mate George T. Fulham, First Lieutenant ( Later Captain ) Becket K. Howell Marine Corps, Acting Master Irvine S. Bulloch. Howell and Armstrong had also served with Captain Semmes in CSS Sumter.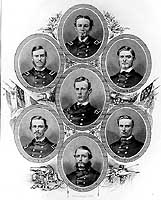 Of course the Union people had not gained a sniff about Agrippina, who had slipped down the channel and was enroute to the Azores to meet up with Alabama, the new Confederate Cruiser.

Semmes with several officers from Sumter, had taken passage to Liverpool, and now, accompanied by Bulloch, made his way to the Azores to take over his new command. He had been able to retain 14 from his original 21 officers who had served him so well in his earlier cruise. On the 20th. of August in the lonely harbour of Terceira in the Azores, Semmes was in seventh heaven, at his first view of the brand new Alabama, already being converted from Enrica into a sleek man-of-war.

He noted: Her model was of the most perfect symmetry, and she sat upon the water with the lightness and grace of a swan.... Her sticks were of the best yellow pine, that would bend in a gale like a willow wand without breaking, and her rigging was of the best Swedish iron wire. The scantling of the vessel was light compared with vessels of her class in the Federan Navy, but this scarcely a disadvantage, as she was designed as a scourge of the enemy's commerce rather than for battle.... She was a perfect steamer and a perfect sailing-ship at the same time, neither of her two modes of locomotion being at all dependent upon the other... the Sumter, when her fuel was exhausted, was little better than a log in the water..."

Bulloch busied himself in every detail of transforming Enrica into Alabama, and proudly watched as the Confederate flag was broken out at the masthead to signify the commissioning of the latest Southern Raider, CSS Alabama.

Civil War P43.

Bulloch sailed back to England, never to set eyes upon Alabama again, but to avidly follow her progress and success over the next two years.

Lt. John McIntosh Kell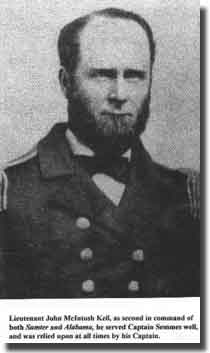 John McIntosh Kell.
John Kell was the executive officer in Alabama, he had served with Semmes in Sumter, had seen 20 years in the US Navy, and as a Georgian, was a staunch supporter of the South. Now 39 years old, a striking 6 foot 2 tall, he commanded respect from all the officers and crew under his leadership. An admirer once said: "His moustaches could meet behind his head and his beard flowed down to his hips."
Another Bulloch at sea.
The brother of James Bulloch, had joined Alabama in the Azores, named as sailing master, Irvine S. Bulloch was responsible under Kell for the ship's navigation.
Chief Engineer.
Miles J Freeman, had so impressed Semmes in Sumter, that he had been offered and accepted a commission in the Confederate Navy, he had been born in Wales, but grown up and been educated in Scotland, this quiet, efficient, Englishman was instrumental in keeping the new Raider's machinery in a state of repair and running over the ensuing two years. Without doubt, Semmes owed a great deal of his forthcoming success to Freeman and his unsung engineering department.
The Crew.
In Liverpool, James Bulloch had collected 83 men to crew Alabama, they had sailed to the Azores in Bahama, signed their enlistment papers, becoming part of the Confederate Navy, now Semmes and Kell needed to mould them into an integrated ship's company, who could and would, sail, steam, and fight the ship when called upon to do so.
Under easy sailing conditions, these two officers went to work, training, training and more training. From a virtual rabble, each crew member changed, becoming a cog in the larger wheel, that would soon operate as part of an efficient fighting ship, ready to sweep the Union merchant marine from wherever they were met on the oceans of the world.
Whaling.
In 1862, the American whaling industry was still very viable, a two year stint chasing whales, and one whaler could carry home $50,000 worth of sperm oil in her tanks. Generation after generation, the American whaling fleet had sought their quarry off the Azores.
Civil War P44.
On the 5th. of September we find Alabama sailing close to the 39th. parallel of latitude, a fleet brig was sighted by the alert lookout, and the chase began. During her whole history, it was a rare event to have any sailing vessel outrun Alabama, but it happened that day. But this chase led Semmes straight to the 454 ton Ocmulgee, of Massachusetts, her sails partly furled, whilst she was tackling a large sperm whale dangling from her tackle, crew members stripping off great chunks of blubber to be boiled down into oil.
Lieutenant Armstrong was sent off in the cutter to collect her Captain, Abraham Osborn and his papers, he was quite dumbfounded to see the US flag suddenly interchanged with that of the Confederacy, he had thought this smart looking ship flying his country's colours, to be a new gunboat, on patrol, courtesy of the Union Secretary of the Navy, to protect the US whaling fleet operating here.
The crew of 37 were moved to the Raider, so were a quantity of stores, barrels of beef and pork. Kell estimated the ship plus cargo to be valued at $50,000.
It was the next day during daylight that this ship was set alight, a night fire was delayed to avoid undue attention being brought upon the scene.
The whaling crew were paroled, using three whaleboats they rowed to the nearby island of Flores, Semmes was very familiar with the problems associated with baby sitting numbers of prisoners, and was glad to quickly rid himself of that hassle.
Another sail was sighted, and wearing the British flag, Semmes set off in pursuit, several shots, including a direct hit on her main mast was required before she luffed into the wind and hoisted the American flag. It was the Boston schooner Starlight, crew, and three lady passengers came aboard Alabama, all were landed by cutter at nearby Santacruz.
Before firing Starlight, a Portuguese whaling brig was taken, it was unusual for other nations to hunt whales in this area, usually a total American activity here.
With their papers in order, the Portuguese brig was released.
Yet another whaler, fooled by the American flag, sailed up into the waiting arms of Semmes, this time, it was the 313 ton Ocean Rover from New Bedford, the ship after 40 months away from home was on her way there, and carrying 1,100 barrels of oil, and digressed by the Azores to refill her water casks, big mistake!
Once more the crew and as many belongings as they could stuff into six whale boats were sent on their way to Flores Island.
Alabama awaited until the next morning to destroy by fire these two captures.
Civil War P45.
The Confederate ship was obviously in an area that would yield a supply of possible victims, and wearing the English flag, Semmes went after yet another sail, a shot from the 32 pounder soon stopped the 398 ton bark Alert, not long out of New London, off to a whaling station in the South Pacific, but now rudely diverted.
She was relieved of any useful supplies including some Virginia Twist, welcome in the Raider, as tobacco was in short supply. Again parole was granted, and her crew took off for the Flores in their overloaded whale boats, as their previous home was burned.
Seeing the smoke rising, and assuming it was a friendly whaler rendering down whale blubber, up came another schooner, Weatherguage, her curosity being her downfall, and her crew were soon on their way to join many other countrymen ashore in the Flores islands, another victim to the relentless Alabama, as they rowed away they watched their ship burn.
Now Semmes and his busy crew had a day off, then once more back to work, next came a 119 ton brig, Altamaha, also from New Bedford, she had been five months away, and not having a great deal of success in the whaling department, that luck only getting worse.
Later that evening a ship passed to windward, a three hour chase with Alabama's superior sailing qualities winning out, the 349 ton whaler Benjamin Tucker gave up, her crew of 30 taken aboard, and the ship destroyed by fire.
On the 16th. of September, the carnage continued, the 121 ton Courser provided a target for the gunnery department, and the now 68 prisoners were sent off in eight captured whale boats to get themselves safely to the Flores.
The same day, yielded the 9th. prize, Virginia, another New Bedford ship of 346 tons, off to the South Pacific whaling grounds but destined never to make it. Her Captain Shadrach R. Tilton was suprised at the speed of Alabama under sail, he remarked on his capture, " It was like a rabbit trying to run away from a greyhound."
During the 18th. with the weather worsening, still flying English colours, a bark was pursued, caught, and proved to be the American 257 ton Elisha Dunbar outward bound on a four year whaling trip, now she too was burned.
In but 11 days this new Confederate ship which had been built at a cost of $228,000 had destroyed 10 ships, with a value of $232,000, Semmes had already paid for his new command.
As the current whaling season in the Azores was about to end, Semmes now set off for the Newfoundland Banks and the coast of the United States. In northern climes
Civil War P46.
the grain harvest had been gathered, and soon, it could be anticipated that American ships would exit east coast ports, laden with wheat for delivery to the bakeries of Britain and Europe. Semmes and his crew would be laying in wait for them.
By the 3rd. of October Albama had sailed into the Gulf Stream and three ships were sighted, enroute to Europe, two were captured, but the third being to windward was able to escape.
Emily Farnum, a 1,119 ton vessel, laden with flour and grain, all protected by certificates of neutral ownership, 68 paroled prisoners were placed aboard, and Semmes, trusting the Master's word he would continue his voyage to Liverpool released the ship, but as soon as Alabama was no longer in sight, he reversed course and made for Boston to alert the Unionists.
The second ship, the 839 ton Brilliant carried a similar cargo, although her Captain insisted it too was neutral, no supporting documents were forthcoming, and she was destroyed by fire.
Kell assessed her value at $164,000, the most valuable of all Alabama's captures.
Back in Boston many a lurid tale was told by George Hagar, Brilliant's former Captain, he went off to New York and an account of his capture was avidly read in the New York Journal.
Insurance Companies faced with large payouts as a result of Semmes' activities, joined Hagar in entreaties to Secretary of State Seward, to protest to Britain about the Confederate ship programme in England, of course we can imagine the American Minister to England, Charles Adams, red faced, once more banging on the door of the British Foreign, and demanding action in this arena.
Now, Secretary of the Navy Welles was also in the firing line, word about the decimation of the American whaling fleet in the Azores was trickling into Washington, with so many ships destroyed, he was unsure how many Raiders were involved, and found it difficult to even compose a plan to combat this menace.
Semmes was an expert in changing the appearance of his ship, a peaceful merchant ship going about her lawful duties, then a British Man-of-War with an added funnel, and the boarding Officers were English, carrying this deception further.
Two more grain carriers were burnt on the 7th. of October, one Wave Crest, a 409 ton bark, the second, a 293 ton brig, Dunkirk, was a few days out of New York on her way to Lisbon. Several crates of religious tracts printed in Portuguese, and to be distributed by the New York Bible Society and the American Tract Society of New York were found on board.
Civil War P47.
Semmes made reference to the Society:
"That pious corporation.... whose fine fat offices are filled with sleek, well fed parsons whose business is to prey upon the credulity of kind hearted American women, and make a pretence of converting the heathen."
Semmes considered by burning this ship, he was also performing a favour for the Government of Portrugal, it was illegal to import foreign religious material into their country.
By chance, included in those captured in Dunkirk, was a seaman George Forrest, he had deserted from Sumter in Cadiz, he was court martialed for desertion, and sentenced to be discharged in disgrace from the Confederate Navy. He was also to serve out the remainder of Alabama's cruise wiyhout either pay or prize money.
Next to fall to the Raider was the 1,300 ton Tonawanda, from the Liverpool line of Cope, she had grain, plus 75 passengers including 30 women and children.
She was held for four days with Semmes hoping to pick up another suitable ship that could take the passengers off his hands, and on the 11th. of October the grain vessel Manchester of 1,062 tons was taken, her papers could not document her claimed British neutrality, and she paid the price by fire.
With a load of prisoners on his hands, Semmes was forced to bond Tonawanda for $80,000, pack her with all the prisoners from his recent sinkings, and release her.
Two crewmen were enlisted from Tonawanda, an ordinary seaman William Halford, and a 17 old slave, David White who was travelling to Europe with his owner. Semmes considering White to be enemy property, released him from his slavery, and he became a popular wardroom mess steward, and a paid crew member. White repaid this action with faithful service in Alabama.
Lamplighter, a 365 ton brig was next to be captured, she was loaded with tobacco, some changed hands, the prisoners taken aboard,and the ship fired.
When Manchester was boarded, some of the loot included a pile of recent newspapers, and I quote Semmes: " I learned from them where all the enemy's gun boats were,and what they were doing.... Perhaps this was the only war in which the newspapers explained, beforehand, all the movements of armies, and fleets, to the enemy.... which of course allowed me to take better care of the Alabama."
Secretary of the Navy now took the decision to send USS Tuscarora off to the Azores to look for Alabama, wrong again, as we have seen, she was now roaming the seas off Newfoundland.
Civil War P 48.
For several days Alabama had to cope with hurricane conditions, and some of her boats, yards, and sails were damaged, Semmes noted, that he needed to capture another ship to allow him to make repairs and replace his boats.
It was not until the 23rd. of October that he sighted a sail, it proved to be the American 945 ton Lafayette, setting out from New York for Belfast, with corn, wheat, and lard. There were papers indicating the grain was owned by Belfast interests, Semmes, never forgiving if he thought a ship's papers might have defects, declared them to be fraudulent, and burned the vessel.
Three days passed by, then the 279 ton Crenshaw, also out of New York with grain for Scotland was captured, again Semmes was not satisfied that her papers showed her cargo was legitimately owned by a neutral, and she too was submitted to the torch. Once more, captured newspapers indicated that Welles was still making wrong decisions about where to send his warships seeking out the elusive Alabama. Reports read that USS Vanderbilt plus gunboats were off to the Newfoundland Banks, pleasing Semmes: " While they are running from New York, I am running towards it."
The 27th. of October dawned, and the 284 ton barque Lauretta was taken, another ship's Captain again protesting his cargo was safe, as it was owned by neutrals from Gibraltar and Messina, not so, according to Semmes, and she was destroyed.
Two days later, the Union Baron de Castine, loaded with lumber was stopped, it was not considered worthy of being destroyed, Semmes bonded the ship for $4,000, unloaded his 44 prisoners, and released the ship. She hastened off to Boston with an account of all Alabama's conquests since she had commissioned, which found its way into the 15th. of November, 1862 edition of Harper's Weekly. Seemes cheekily sent his respects to Mr. Low of the New York Chamber of Commerce, indicating that by the time that gentleman got this report, Alabama would be cruising off that port.
When that false information reached the desk of Secretary Welles, Semmes was off to the southeast, again leaving an empty stretch of ocean for the Union gunboats to search.
The southern Raider was running short of coal, and set off for Matinique where Agrippina waited her, en route found the whaler Levi Starbuck of 376 tons caught, just off for a 30 month stint after whales, but destined never to achieve it.
Alabama after 70 days at sea was running down her food supplies, now to be gratefully augumented from this latest prize, and her 29 crew were also taken aboard, to watch their ship consumed by flames.
After passing Bermuda, on the 2nd. of November, a larger ship, Thomas B. Wales
Civil War P49.
registered at 599 tons, and carrying jute, linseed, and 1,704 bags of saltpeter to Calcutta, Semmes believed the saltpeter was destined to be turned into Union gunpowder, and ordered another bon fire.
Several of the spars from this latest prize, matched those destroyed by the hurricane when Alabama had run into that foul weather, and eleven sailors from the captured crew signed enlistment papers to serve a new master.
The Union Admiral David Porter, who was aware of Semmes throughout his distinguished career, pursued him, even disliked him, but nevertheless, respected the Southern Captain, post war wrote this about his adversary:
"Was there ever such a lucky man as the Captain of the Alabama? If he wanted a cargo of provisions it fell into his hands. If he required to visit a dock-yard to fit out his ship, a vessel came along filled with cordage, canvas and anchors. If he wanted lumber, a lumber vessel from Maine came right into his path; if he needed to reinforce his crew, renegades from captured vessels would put their names to the shipping articles, after listening to the thrilling tales of the Norsemen, of burning ships and abundant prize-money."
The 17th. of November found Semmes safely at anchor off Fort-de-France Martinque, Agrippina, loaded with Cardiff coal awaited.
All the prisoners were landed, and the crew were anxious for shore leave and alcohol, the local bum boats swarmed around Alabama, and it proved impossible to stop grog being smuggled aboard. Very soon a drunken brawl erupted, there were idle mutterings about mutiny, the Captain ordered general quarters, ingrained discipline prevailed, and even the drunks turned to and manned their guns.
Armed officers of the ship soon restored order, the drunks taken into custody and hosed down with water until they gasped to breathe, any sign of mutinous behaviour soon quelled.
Whilst waiting for Alabama to arrive McQueen the Captain of Agrippina had spent much of his eight days in the local bars, his tongue none too discreet after much imbibing, he bragged about his association with the notorious Southern Raider. Always on the alert, Union intelligence duly reported, the result, USS San Jacinto, under the command of Commander William Ronckendorff, on the 19th. of November was sitting in place to block the harbour.
McQueen understandably in Semmes bad books was banished to the small Venezuelan island of Blanquilla.
Not withstanding Ronckendorff sitting in wait, and the Marine brig Hampton nearby discharging cargo, given the task of reporting Alabama's movements, she
Civil War P50.
managed to slip away, evading the waiting, but not too observant USS San Jacinto.
By the 21st. of November, Semmes and his crew had caught up with the much slower Agrippina, they made their way to anchor off the shore of Blanquilla.
On the beach, members of the American whaler Clara L. Sparks, were rendering down whale blubber, polluting the sky with black, pungent smoke.
To the delight of the whaling Captain, observing Alamaba, flying the US flag, here was a strong and powerful Northern warship, he hastened aboard to pay his respects. On meeting Semmes he declared: "You are the ship to give the pirate Semmes fits."
One can only imagine how his jaw must have dropped, on being appraised " That here indeed was that very pirate!"
Semmes informed his suprised guest that he had no cause for alarm, he was safe in this Venezuelan area, and he would not burn his ship.
The Raider crew now toiled over the next five days, transferring coal from Agrippina, the deserter Forrest, was tried and found guilty of inciting mutiny, and was put ashore with his scant belongings, he promptly joined up with the whaler's crew, and was lucky to have been treated so lightly.
Agrippina having been relieved of half of her coal cargo, was ordered to next meet Semmes at Arcas Island in the Gulf of Mexico.
The 26th. of November found Semmes again on the move, shaping a course to take him to the shipping lane between Haiti and Cuba, in just over 2 and a half months his ship has accounted for 20 ships, valued at $1,184,311, something better than four times the cost of his own Alabama to build.
But it was not possible to merely put a dollar value on all this success, his rampaging across the Atlantic had struck fear into the hearts and minds of American ship owners, and their marine insurers.
The New York Shipping and Commercial List printed:
"Vessels under foreign flags command higher rates, in consequence of the reported seizure and destruction of American vessels by the Rebel Steamer 290."
In but one more week, the same source noted: " Shipments making almost entire in foreign bottoms, American vessels being in disfavor."
Semmes and his operation were slowly bringing American commercial shipping to its knees, the start of its demise, he was truly serving the Rebel cause.
Civil War P51.
We have read how Admiral Porter considered Semmes and his ship Lucky, the Raider was running short of supplies, as if to agree with the Union Admiral, the 136 ton bark Parker Cook, from Boston, now crossed Alabama's path.
Her cargo of pork, beef, butter, cheese and ship-bread, like manna from heaven, she was soon ablaze, of course less all her provisions, which had duly changed hands, Northern property one moment, Southern property the next.
A small, 90 ton Baltimore schooner, Union came next, bonded for $1,500, she served as a means of off loading the recently acquired prisoners from the provision supplier.
On the 7th. of December, a steamer was sighted, and she proved to be Ariel, her Captain Albert Jones very much suprised to see this sailing ship chasing him suddenly raise a smoking funnel, and replace a Union flag with one from the Confederacy, when a second gun shot tore through his rigging, it was time to stop, and heave to. Alabama's boarding party soon removed Ariel's Captain to the Raider, and Lieutenant Low took charge with his prize crew.
As soon as Semmes learned that this ship carried ladies, who were terrified by being taken by ruthless pirates, he ordered Lieutenant Armstrong and Midshipman William Sinclair to don their best uniforms, repair to the Ariel, and "Put the ladies minds to rest by charming them all."
They must have carried out this assignment with aplomb, a later report indicated that every button from their uniforms fell victim to clamouring ladies, eager to acquire a suitable keepsake from this unexpected meeting at sea with a Southern Raider.
This capture proved a problem, she had five hundred women and children on board, a 140 battalion of Marines who were disarmed and then paroled, they were on their way to the Pacific.
Ariel was kept in close company over several days, Semmes hopeful of finding a way to dispose of all these prisoners, so he might burn this ship, nothing suitable coming his way. Regretfully, he bonded the vessel for $261, 000 and released her.
At this stage, Albama's engines failed, needing at least 24 hours to make repairs, it took two days before all was well again in the engine room.
A landfall at Arcas Island was made on the 22nd. of December, and the next morning up sailed Agrippina, the next two weeks were taken up by coaling, recaulking, and careening the ship to remove all the marine growth from her copper bottom. The coal carrier now empty, was despatched to Liverpool to refill with coal.
Civil War P52.
Semmes had learned from captured newspapers that the Union Major General Nathaniel Banks was enroute to Galveston to attack from the sea. At this port, was a 12 foot bar, meaning any invading troops would need to be off loaded into smaller boats to take them ashore. He believed at that stage, the Union troops would be at their most vulnerable, and he intended to take advantage of that situation.
By noon on Sunday the 11th. of January in the new year of 1863, Semmes had Alabama about 30 miles off Galveston, his lookout instructed to keep watch for a lighthouse, and a large fleet of ships. A cry from the lookout: "Land ho! Sail ho!" His report, "No transports, but five Union warships, all shelling Galveston."
Confederate forces apparently having recaptured the city. One of the Union warships sailed out to investigate this strange sail off shore, Semmes slowly lured this vessel further way from her squadron, until they standing out to sea about 20 miles. On being hailed and asked "What ship is that?" Semmes responded with "Her Majesty's steamer Petrel." and in turn, asked the ship he believed to be a Unionist to identify, after several requests he could make out it was the United States....
On positively identifying this ship as an enemy, Kell was told to tell them that this was the Confederate States steamer Alabama, and to open fire immediately, the starboard guns soon spoke. The gunboat returned fire with both ships as close as 40 yards, it did not take long for the Union ship to be on fire, sinking, and to surrender.
USS Gunboat Hatteras of 9 guns with Lieutenant Commander Homer Blake, and 140 men being the victims.
This encounter proved to be the only time during the Civil War, that a Confederate Raider achieved a victory over a Union warship.
Although Alabama received seven rather minor hits, only one man received a slight wound in a cheek, the funnel had been struck with one incoming projectile.
Hatteras had sunk in about 58 feet of water, her mastheads just above the surface, and USS Brooklyn found her position the next morning, but no sign of her crew, all safe in Alabama, who arrived at Port Royal, Jamacia on the 20th. of January, all prisoners were paroled to the American Consul there.
Semmes who suffered from seasickness, took four days away from the ship at Kingston to recover from this malady, leaving Kell in charge to recoal, reprovision, and generally care for the ship.
When Semmes did return to his ship, he found many of the crew, granted shore leave, loath to return, they were prized out of brothels and bars, but nine were never found, to be listed as deserters. The Captain was glad to sail on the 25th. of
Alabama sinking Hatteras off Galveston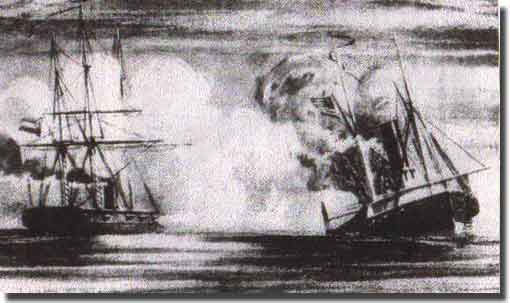 Civil War P 53.
January, and headed for the coastline of Haiti.
The next day, the barque Golden Rule, 255 tons fell to the Raider, she was full of medicine and food consigned to the Panama Railway Company and the Pacific Mail Steamship Company, also in the cargo, a full set of spars and sails for USS Bainbridge, Semmes soon ensured she would still be waiting a lot longer before these essential parts were replaced. Although some of the cargo may have fallen into the neutral category , Semmes decided the ship would be burned, a fate soon carried out.
Now off Santo Domingo, the 293 ton brig Chastelain, ex Boston, was soon despatched by fire, she was only in ballast, and other than the ship's chronometer and $700 worth of gold she yielded nothing but extra prisoners to cope with, these and those from Golden Rule were soon sent ashore at Santo Domingo.
Early in February, a smallish schooner of but 172 tons, Palmetto, having sailed out of New York only 10 days earlier, met the usual fate associated with being captured by Semmes.
The remainder of February provided scant pickings, only two more prizes for the month, both on the 21st. although 4 sails were sighted, two proved to be American, the 1,121 ton clipper Golden Eagle, and the 360 ton New York bark Olive Jane, the latter carrying wine, brandy and delicacies from Bordeaux, Semmes recalling the alcohol problems he previously had with his crew, burned this vessel and all her cargo.
The clipper with guano for Cork also went up in flames, I found myself wondering if, perhaps as a boy, the Captain of Alabama had a specific interest in building and then setting alight large bon fires, he seemed to enjoy the experience now!
On the second last day of this month, the New York Washington was taken. her cargo, also guano for Cork was neutrally owned in Holland, and she was bonded for $50, 000, and released, not before her Master was convinced he should take all prisoners aboard. Early into March, a third guano ship was captured, the 890 ton Bethiah Thayer, another neutral owner, resulted in another bonding, this time for $40,000.
John A. Parks, full of lumber for Montevideo was next to burn, Semmes not happy with the Consulate seal which he deemed fraudalent, now the Boston Punjaub was captured, this time her English cargo exempted her from a fiery end, but a ransom bond of $55,000 was executed, and the Park's crew taken aboard for passage to London. By coincidence, in September 1863, Punjaub again fell into Semmes' clutches, only to survive a second time through carrying a neutral cargo, and having all her papers in meticulous order. Her owners had already lost a ship to Semmes, the Thomas B. Wales which he destroyed in the previous November, and had used
Civil War P54.
their experience as a lesson to properly document all neutral cargoes, if they wanted to survive the hard scrutiny that Semmes gave to papers of any ship he captured.
On the 23rd. of March, two more ships fell foul of Alabama, Morning Star from Boston with a neutral cargo from Calcutta to London was released after being bonded for $ 61,700, the whaler Kingfisher, only 120 tons from Massachusetts, not so forunate, was burned.
Two days later, Alamaba still going on her destructive way, two more prizes, the 699 ton ship Charles Hill with a hold full of salt, like wise a schooner Nora, both ships soon burning.
No further conquests came the way of the Raider until the morning of the 4th. of April, when at 0830 ( 8.30 AM ) a chase began, it took another 12 hours before the New York vessel Louisa Hatch, with a load of 1,100 tons of smokeless coal on board, was overtaken, and captured.
Alabama's bunkers almost empty, Agrippina was due, she never arrived, her unreliable Captain had sold off his cargo of coal, and went back to England. So once more Semmes' incredible luck continued with his latest seizure.
Sailing in company with Louisa Hatch, having placed Fullam one of his officers on board, the two ships went off to the Brazilian penal colony of Fernando de Noronha.
On the 10th. of April, Semmes told the Governor he was in his territory, and using open boats transferred 300 tons of coal from his latest benefactor.
Two whalers anchored about 5 miles off shore on the 15th. of April, and their Captains rowed over to the Louisa Hatch, here Fullam pretending to be American passed off the nearby Alabama as a Brazilian steamer, but they soon hurriedly retreated after observing a Confederate flag drying over a nearby boom.
Semmes watching this farce from close by, raised steam, flying the Confederate flag, but one shot was necessary to force the two whalers to surrender, Lafayette, and the 132 ton Kate Cory, which was used to transport the 110 prisoners back to shore.
A new arrival, a Brazilian schooner, was now utilised to carry these latest prisoners to Pernambuco, the two whalers taken out to sea and burned.
By the 22nd. of April, the local authorities were ready to see the end of the Confederates, and Semmes took his ship to sea, to capture a 211 ton bark Nye, from New Bedford, returning with a load of whale oil, and whalebone from a spell in the Pacific. The oil assisted the subsequent fire, as she burned in fine fashion.
Four days without a sighting, then another ship carrying coal from New York to
Civil War P55.
Shanghai, for once Semmes could not fit the coal into his already full bunkers, the crew were removed from Dorcas Prince, 44 prisoners now swelled the numbers on board the Raider, further additions would add to the guarding and feeding problem already posed for Captain Semmes.
Whilst close to Bahia, now into May, two American ships were found, the Union Jack, off to Shanghai, with a general cargo, and six passengers, the Captain, Charles P. Weaver, had his wife with him, plus two children and a servant, a consul going out to China, plus another man. The two ladies were transferred to Alabama, via a bosun's chair strung from the yard arm, I am sure thay were probably petrified, as they gazed at the nearby ocean yawning close below them during their ride between ships.
The second ship, a 973 ton Boston clipper, Sea Lark, was taken, she had an interesting general cargo which took a whole day to sort through to decide what might prove useful to the Alabama, her destination San Francisco, but never to be reached. Both ships were burned, and the total of 108 prisoners made it mandatory for Semmes to head into the port of Bahia, where he landed them.
The slate listing captured and burned ships now had a total of 38 ships , and the value of them, including bonded ships, reached a staggering total of $3,100,00, all achieved in a short nine months, a truly amazing result for Semmes, his officers, and the crew. Alabama was at the zenith of her career, a few days of rest and recreation at Bahia were in order, and the waterfront brothels were assured of record business.
On the 13th. of May, the Officer of the Watch, reported a strange ship had anchored close by, it turned out to be CSS Georgia, captained by Lieutenant William Maury, an old Naval friend of Semmes, and under him were two officers from Sumter,all in all, a happy reunion over several days.
Although the American Consul was lobbying the provincial President not to grant the Confederate ships a coaling permit, Semmes turning his charm and persuasive powers upon the President, and, promising to sail as soon as both ships coaled, won the day. It took five days for the ordered coal to arrive, on taking it onboard, Semmes cleared the harbour at Bahia on the 21st. of May, sailed south to seek ships that were rounding Cape Horn.
Success on the 25th. of May, the 848 ton S. Gildersleeve, making for Calcutta, loaded with British coal, was consigned to the depths, another ship close by, Justina, was bonded for $7,000, and took the latest prisoners on board to take them back to Boston.
The 29th. of May, and another capture, the 1,074 ton Jabez Snow, also loaded with coal for Montevideo, Semmes was suprised to find a woman on the ship's articles listed as a chambermaid, he wrote: " These shameless Yankee skippers make a
Civil War P 56.
make a common practice of converting ships into brothels, and taking their mistresses to sea with them. For decency's sake, I was obliged to turn the junior Lieutenant out of his state room for her accommodation."
In some things,and in some ways, our Captain Semmes could be quite straight laced!
This floating brothel was naturally burned without any compunction.
June had arrived, and was celebrated with the capture, after a long chase, of the 480 ton bark Amazonian, she soon burned, and her crew transferred on the next day to Widna of Hanover, for safe passage to Rio de Janiro, 10 days of provisions and a $200 chronometer were necessary to change hands to secure this deal.
The 5th. of June and a clipper of 1,237 tons, Talisman became a victim, another Shanghai bound coal shipment, she carried four brass 12 pounders, and they transferred to a new ownership, no doubt to be put to good use at a later date.
Two American ships, now sailing under the British flag were overtaken, G. Azzopadi was released, then the Queen of Beauty, now Australian was also free to proceed.
Next, on the 20th. of June, Conrad, a 348 ton sleek bark from Philadephia surrendered, loaded with Argentinian wool and goat skins, her Captain's papers claimed neutrality, but as her cargo was consigned to New York, Semmes ruled the papers forged. The 21 men and 1 woman came aboard Alabama.
Semmes had been seeking a fast ship, and believed he had just captured one, the next day, she was armed with two of the 12 pounder guns, and Lieutenant John Low given command of the newly named Confederate Cruiser Tuscaloosa.
Low had been told to take his command to Saldanha Bay, north of the Cape of Good Hope, and Alabama now set course for that same destination.
Weavils had taken hold in the ship's bread, a new supply was needed before tackling an Atlantic crossing to a rest area in the close proximity of Cape Town, and Semmes altered course for Rio, still some 825 miles away.
Luck once more showed her hand, and after a long chase, the 784 ton Anna F. Schmidt, happily an American ship, was captured, her hold to yield up, guess what? Right! a 30 day supply of bread sealed in airtight casks, plus a nice selection of needed clothing, including shoes. Once again Alabama went about, and headed for South Afrtica.
Whilst the burning Anna still lit the evening sky, a square rigged ship very much like a Yankee clipper sailed quickly past, Semmes took up the chase under steam. When three miles away a shot was fired, the stranger fired in return, the chase now
Civil War P57.
extended over another 4 hours.
This large black vessel was finally overhauled, Kell on the end of a megaphone demanded " What ship is that?" To his suprise the reply was " This is her Brittanic Majesty's ship Diomede! What ship is that?" Kell came back with " This is the Confederate States steamer Alabama." The British officer said: "I suspected as much when I saw you making sail, by the light of the burning ship."
After this unexpected exchange, both ships parted company and went their respective ways.
The 1,072 ton Bostonian Express with guano for Antwerp did not satisfy Semmes that her papers were in order, and she paid the price, it was a rather lonely stretch of the South Atlantic, and it took until the 22nd.. of July to discover another ship, it proved to be the British Star of Erin, it took aboard Captain Frost, his wife and maid, plus the Captain from Anna F. Schmidt.
In another 4 days, an English ship Havelock told Semmes he had sighted a steam ship further to the east, to be prudent, the Confederate Captain decided to give Cape Town a wide berth, just in case a Union warship lay in wait to the east. He anchored in secluded Saldanha Bay on the 29th. of July.
It was only a few days later that USS Vanderbilt stopped Havelock, to learn about Alabama cruising in the area, she quickly set course for the Cape.
The bay where Alabama sought shelter was about 60 miles north of Capetown, had a well protected harbour, and but a few scattered farm houses on the shore. Local beef and mutton was purchased by the Paymaster, the Dutch farmers visiting the ship agog at the size of her guns, it was said the ladies were far more interested in some of the mustaches sported by the younger officers.
In an unfortunate gun accident, Third Assistant Engineer Simeon Cummings when leaving the boat killed himself, he was buried on the 4th. of August, his tombstone the only monument for a Confederate in South Africa.
It was time to leave, Tuscaloosa overdue by a week, and Semmes was pleased to sight her coming up from the south, Low reported he been delayed by the lightness of the wind. He had investigated 48 ships, only one American, Santee, loaded with 1,500 tons of British owned rice, she was bonded for $150,000, and let go.
Low was now told to make for Simon's Bay, east of Cape Town, to provision, refit and wait.
When close to Cape Town, a sail was reported making for Table Bay, off rushed
Civil War P58.
Alabama under steam to intercept before the safety of South African territorial waters could be reached. With the British flag in full evidence, Semmes took the Boston bark Sea Bride, her crew removed, and the prize kept well to sea outside any safe limits, the Raider boldly taken into Table Bay.
I made my first landfall here in 1940, in the cruiser HMAS Australia, we had escorted a large contingent of Australian troops from our mainland. Table Bay is dominated by Table Mountain, more often than not capped with a white cloud, or a table cloth as the locals put it.

In those times, a cable car could be taken to the top, and the wide view from that vantage point was truly wonderful. I regret that Aussie troops, some of whom swam ashore from their anchored troopships, created mayhem within the town, stopping horse drawn carts loaded with beer to confiscate and quickly dispose of their freight.

Carrying little old ladies complete with their small cars to the top of the Post office steps, and leaving them stranded. Entering large department stores and suggesting that the shop girls might leave work and join the soldiers elsewhere. I am afraid the good name of Australian Servicemen was somewhat tarnished on that occasion.
Semmes and his crew did not behave in such a way so many years before my visit to CapeTown back in 1940. The ship was feted at the Cape, but the US Consul, Walter Graham went to work on the office of Governor Wodehouse, lodging strident protests about Alabama, and how this last American ship had been taken within the sanctity of British territorial waters. Semmes had carefully documented his capture, including favourable testimony from the Collector of Customs, the lighthouse keeper, and the signalman on watch at the time of the capture at Lion's Rump telegraph station. The Consul wailed in vain, and his protests were rejected.
But what to do with Sea Bride? A British merchant solved this dilemma by offering to buy her for $16,940, the one condition, the transfer to take place in some quiet and secluded place on the coast. Semmes was well aware that his proposed sale was illegal, but chose Luderitz Bay on the remote coast of Angra Pequena, where none of the important powers claimed any jurisdiction.
Firstly he needed to coal at Simonstown, after rounding the Cape, he found the Boston bark Martha Wenzell, with a load of rice making for Falmouth, but she was within terrotorial waters, and not wishing to push his luck further, Semmes released this ship. This was the only vessel that he ever admitted to taking illegally, although roundly criticized by the British Rear Admiral Baldwin Walker for his action, the quick release, and explanation that this capture was unintentional within the marine limits of South Africa was duly accepted.
Tuscaloosa, already at Simonstown, was ordered to collect Sea Bride, and ensure she arrived at Angra Pequena so that the proposed sale might be completed.
Civil War P59.
Now for a week, Semmes and his officers accepted the hospitality of both the locals, and from several British warships also at Simonstown. I can attest to the hospitality of the local population at the Cape, for a young Midshipman on the lowly wage of 42 shillings a week, say, only about $4.20, the fact of never being expected nor allowed to put one's hand into your pocket for money, became quite overwhelming.
The round of invitations was continuous, and a strenuous constitution was required, we somehow managed to cope.
But it was soon over, for Alabama, and on the 15th. of August, she sailed off to meet up with Tuscaloosa at Angra Pequena, bad weather was the cause of a slow passage, and the Raider did not arrive until the 28th. By then, Low had completed the sale to Captain Thomas Elmstone, representing Robert Granger of both CapeTown and London.
As Sea Bride, if this ship was found in CapeTown, or for that matter in any other major port, it was probable she would be recognised, and returned to her lawful owners. To protect his new buy, Elmstone painted her black all over, renamed her Helen, registering her on paper, in Hamburg. Under her new ownership and guise, this ship traded between Mauritius and Madagascar in the Indian Ocean for a number of years, to come to an end on a reef off St Mary's, Madagascar.
Although a number of local merchants were keen to join Semmes in a syndicate, he to supply prizes for cash, and the merchants assuming all subsequent risk, although tempted, Semmes decided to decline the offer, it was too risky, too much time was involved, and he realised his one major objective was: "The capture and destruction of as many Union vessels and their cargoes as possible."
Alabama was again at sea on the last day of August, Low ordered to sail his ship to the coast of Brazil, cruise in that arena for some time, then make his way back to the Cape, to rejoin his superior, who was planning to make a return voyage to the East Indies.
But Semmes first needed to coal again at Simonstown, on arrival on the 16th. of September, no coal available, his own CSS Georgia, and the dreaded USS Vanderbilt had gobbled up all the local supply, and the latter was out hunting for him.
Semmes waited impatiently at Simonstown for nine days for coal to arrive, during this time 20 crew members chose not to return to the ship, local police uncovered 6 of them, and another 11 men, down on their luck, chose to become passengers until at sea they could legally be enlisted.
News from Cape Town warned that USS Vanderbilt was in port, it was prudent for Alabama to depart, and on the 24th. of September she sailed east into the teeth of a fierce gale.
Civil War P 60.
As Alabama had received information about Vanderbilt, so had the Union warship been kept informed of the general movement of Confederate ships around the Cape.
Captain Charles Baldwin whose command was a side wheeler, mounted huge 11 inch guns, the shells from them about twice the weight available from the guns in Alabama. Baldwin knew his enemy had been sitting at Simonstown, that both Georgia and Tuscaloosa were nearby, he looked, in vain for these ships over the next month, but they all eluded his search. He had indeed passed close to Alabama one dark and dirty night, when Semmes had sighted a large ship through his binoculars, and heard the hiss and movement of the rotating paddle wheels driving Vanderbilt.
The Union Captain oblivous to the enemy warship " Passing in the night."
On the 27th. of September, Semmes was 44, and three weeks later, still driving his ship eastwards, after fixing the ship's position he made this comment:
"Well there is one comfort, I cannot get any farther away from home. Every day's run from this point, whether east or west, must carry me nearer to it, so that whether I look east, or whether I look west, I am looking equally towards home. When will the Almighty, in His Providence, permit me to return to it? The merciful veil that hides from us the future keeps this secret alive."
It had been 2 years and 4 months since the Captain had seen his home.
Over the past year, Alabama had destroyed 46 ships, their value listed at $3,506,218, the coming nine months would be relatively lean, with but 9 more to be sunk.
The Confederate Raiders had been most successful in sweeping commerce sailing under the Union flag from the oceans of the world, but many American built ships were still sailing, now under new, but foreign owners. Thus the task of finding and destroying Union flagged vessels was made far more difficult by their own efficiency.
By the 21st. of October, when some 4,410 miles from the Cape, Alabama crossed the Tropic of Capricorn,the ship now showing the signs of a tough voyage, her bottom fouled, indeed, no longer the fast ship she used to be. An overhaul was required, when close to Sunda Strait, Semmes heard from an English ship that USS Wyoming, plus a three masted schooner acting as her tender covered this strait, anchoring nightly off Krakatoa Island. Although he believed his ship both faster and with a heavier armament than the Union warship, Semmes for safety, shifted three of his 32 pound guns across the deck to mount a seven gun broadside.
Playing his usual crafty game he told any neutral ship he encountered that he was USS Mohican, on his way to take over the duties of USS Wyoming.
On the 6th. of November, the 598 ton bark Amanda fell to the Confederate, and was
Civil War P 61.
soon burned.
The Java Sea was entered on the 10th. of November, a fine looking clipper appeared from a rain squall, the 1,768 ton Winged Racer bound for New York, one blank shot stopped her, again, Semmes uncanny ability came to the fore, he was in need of provisions, here they once more fell into his lap, including tobacco from Manila.
This ship's boats were used to be rid of these prisoners and those from Amanda, all reached Batavia the following day.
Next day, another clipper was sighted at 1000 ( 10 AM,) it was the 1,098 ton Contest, also off to New York, full of tea, silk, and goods from China, a race to survive began.
The first mate of Conrad, later wrote a report, which Wyoming sent off to their Secretary Welles, in it, he said that they sighted a steamer close by, it finally hoisted the American flag at its yardarm, and we in turn, ran up our colours.
After some 20 minutes more, she fired a blank shot, and when 3 miles away, down came the American flag to be replaced with the Confederate one, accompanied by another shot from the guns. We crammed on every inch of sail, and with a 14 knot breeze managed to leave her on our quarter, she in turn clapped on full sails, and full steam, and followed with a 100 pound shot which fell but a half mile astern.
At about 1230 ( 12.30 PM ) the wind dropped to only 6 knots, and we were very rapidly overhauled, the next shot passed between the fore and mainmast, it seemed time to stop. As the prize of CSS Alabama, we anchored in 17 fathoms of water, and anything of value was removed to the Raider, our crew joined our valuable cargo, and the ship burnt about 2130 ( 9.30 PM. )
The British ship Avalanche was the transport medium to convey this crew to safety to Batavia.
Over the rest of November, although many ships were stopped and boarded, all were neutral, and the South China Sea carries its share of navigational hazards in currents and coral reefs, it can be a Captain's nightmare, keeping him tied to his bridge, fearful of falling victim to the jagged teeth of a coral reef, swept there by a fast running current. The weather could blow a gale one moment, and then produce a becalmed state as the wind simply died.
Alabama coasted along what is now Viet Nam, entering a bay between Saigon and Singapore, this area now French, the copper sheathing on the ship's bottom, now hanging off in places was repaired, and the bottom scraped clean.
Singapore was the target, as Semmes set off on the 14th. of December, arriving there a week later. To reinforce the job done by Confederate Raiders, 22 American ships
Civil War P 62.
were in the harbour, rotting away and idle, cargoes could not be found for American flag carriers.
Coaling was achieved at Singapore, and on Christmas Eve, 1863, Alabama was in Malacca Strait, the voyage to the far east had not been up to Semmes' expectations, but a ship with British colours was found, the 799 ton Martaban, not satisfied with the report of his boarding officer, Semmes took himself over to this ship.
Every detail of the vessel gave out the telltale marks of New England shipbuilding, he thought the papers counterfeit, the meal in evidence totally American, the load of rice owned by a Mr Cohen, no actual evidence of neutral ownership, the ship was destroyed by fire.
Now it was all over, the Master, Captain Pike, admitted on sighting the Confederate, he quickly gave the ship a bogus ownership, she was actually Texan Star, it took a lot to put anything over the experienced and wily Captain Semmes.
All the prisoners were released on Christmas day at the village of Malacca.
Semmes celebrated the Christmas period by capturing and burning the 1,050 ton clipper Highlander sailing out of Boston, carrying rice for Akyab in Burma, by chance, among her crew were 14 seamen from Contest, previously sunk by Alabama, they had signed on their new vessel in Singapore, only to be Confederate guests a second time, and very soon after their first capture.
Next came Otone, formerly American but sold to an owner from Bremen, and crewed by Dutchmen, she qualified as a neutral, and was released.
1864 dawned, with Alabama slowly making her way westwards towards Ceylon, sitting at the southern end of India, and today called Shrilanka, an English bark was stopped with the intent of gathering some intelligence about any Union warships lurking in the vicinity of India.
Semmes passed his ship off as USS Dacotah, out seeking to run down that Confederate Raider, Alabama, the Master commented: " It won't do; the Alabama is a bigger ship than you, and they say she is iron plated besides, she was last reported at Simon's Bay." This report gave Semmes confidence that he would not be molested by his enemy in the Bay of Bengal where he making towards.
By the 14th. of January, Alabama had run down a 1,097 ton ship from Maine, Emma Jane, running in ballast to Burma, she had sought a cargo at Bombay, but struck a blank there, no shippers wanting to risk their precious freight in an American flagged ship, the Confederates being so active around the world, and she was burned.
Civil War P. 63
The 30th. of January found the Raider crossing the equator on her southward run to the Cape. In early February, a ten day stop was made at the Comoro Islands close by the entrance to the Mozambique Channel, here, fresh fruit, vegetables, and six live bullocks were taken aboard, the latter to provide welcome fresh meat as and when required.
On the last day of February, Seaman Henry Goodson who had been ill for some time, had been told by the surgeon to go on deck and grab some fresh sea air, leaning over the forecastle, he lost his balance, and toppled over the side. " Man overboard!" echoed round the ship, there was a rough sea running, but Michael Mars grabbed a grating which he threw over the side, then against Lieutenant Kell's advice, quickly dived to the rescue. Mars managed to grab Goodson, and secure him to the grating, meantime the ship turned into the wind, lowered a boat which picked up the two seamen.
On the 11th. of March, Table Bay was entered, and the ship came to anchor, hoping to relax for a while, Semmes was confronted with the news that Tuscaloosa had been seized on the order of the British Government. Initially, in August of 1863, the ship has been allowed to enter Simonstown as a legitimate Confederate warship, but on her return some 4 months later, Lieutenant Low was informed that the British had a change of heart, and a 28 man troop of British Marines came onboard to ensure that the ship did not escape.
Low paid off his crew and set sail for England, now Semmes embarked on a long legal battle to retain ownership of this vessel for the Confederate cause, although he was in due course to win, the ship lay at Simonstown for many months, as it awaited the arrival of a suitable Confederate Naval Officer to take command.
As the war ended, the ship reverted to the United States, and it was sold at auction.
On the 25th. of March, Alabama quit Cape Town, she was over due a docking to carry out extensive repairs to both hull and machinery, with Britain now hardening her stance on neutrality, it probably meant certain internment if Semmes risked taking his ship into a British port, so he decided to make for Cherbourg in France.
From friends at Cape Town, Semmes had collected the latest newspapers to bring himself up to date with the war at home, it made depressing reading, Union armies were in possession of much of the South, all but two ports were blockaded, he felt that his cruising days must be nearing their end.
It had some months since his command had last taken a prize, but on the 23rd. of April this was about to change, a long chase from astern covering all night, and the 976 ton Rockingham from Portsmouth USA, was overtaken and captured. On this occasion, gunfire was used to sink her. In another four days a New York bark sailed up to them, Alabama not needing to even alter course as the 717 ton Tycoon was
Civil War P 64.
captured, and burned after removing all useful stores.
Over the next six weeks Alabama battled her way northwards, seeking targets in her old stamping ground the Azores, many neutral ships were boarded and released, the Union ships practically swept from the sea. The ship was loosing more of her hull copper sheathing, her Captain unwell, and on the 10th. of June they were off Cherbourg, and entered the harbour the next day and anchored.
On the 12th. of June, Semmes went ashore to visit the port Admiral to ask for use of the local facilities to repair his ship, and to drydock. He was stalled, being told only the Emperor could grant such approval, and he was away for several days.
The following day brought a letter indicating that USS Kearsarge had sailed from Flushing in the Netherlands, with her destination Cherbourg, and she appeared off the port on the 14th, Semmes ordered 100 tons of coal, and prepared his ship for a fight. The next day, the French Admiral indicated that he took the order for coal as a withdrawal of the request for repairs etc, and Semmes agreed.
He informed Flag Officer Barron in command of the Confederate Navy in Europe that he intended to fight Kearsarge, passing the same message to the local US Consul.
For two years, USS Kearsarge had scoured the English Channel, the Mediterranean and the Bay of Biscay for Confederate ships, Nashville, Georgia, Florida had all evaded her clutches, only Sumter had been forced to hole up in Gibraltar, but now her time had come, up to the 11th. of June 1864, her career had amounted to nought, that was all about to change.
Captain John A. Winslow of USS Kearsarge, victor over Captain Raphael Semmes of CSS Alabama off Cherbourg, on the 19th of June 1864.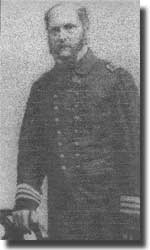 Her initial Captain, had been Charles W. Pickering, but late in 1862 he was recalled, and Captain John Ancrum Winslow took command, over a year he had searched for Alabama, but now he had her bottled up here in Cherbourg, would she come out and fight?

Kearsarge was the larger ship, built to fight, whereas Alabama had been built for speed with longer range guns, if she could stand off and pound the US ship, victory might go to Semmes, her two knot speed advantage negated by her copper sheathing sprung loose. On the other hand, a close encounter would favour the Union ship, her 11 inch Dahlgren guns hurled a 430 pound shell versus the 360 pound ones from the Confederate.

Alabama of recent times had found that about every third shell fired had failed to explode, this fact worried Kell and he so informed his Captain.

For several days the crew in the Raider prepared, the boarding party training daily with their pikes and cutlasses, Kell indicated his men were ready, on Saturday the

Civil War P 65.

18th. of June the local Admiral was informed that Alabama would leave port the next day, Sunday, to fight Kearsarge.

Semmes landed 4,700 British gold sovereigns, more than he had on board when he first took his ship to sea, payroll records, all ransom bonds for ships captured, bonded and released, plus chronometers from captured vessels went ashore, he maintained the 100 flags he had taken from ships, he was supremely confident stating he would : "Prove to the world that his ship was not a privateer, intended only for attack upon merchant vessels, but a true man-of-war."

Sunday dawned a quite beautiful day, a soft breeze blew in from the south, crowds from Cherbourg gathered upon the heights above the port, all itching to view the forthcoming battle between the Union and Confederate ships.

Alabama's crew had breakfast, and the French ironclad frigate Couronne escorted the ship towards the western channel, it took 45 minutes to sail the 7 miles out to where the Union ship awaited.

Semmes, now for the first time since his commissioning speech, spoke to his assembled crew:
"Officers and seamen of the Alabama! You have, at length, another opportunity of meeting the enemy- the first time that has been presented to you since you sank the Hatteras! In the meantime, you have been all over the world, and it is not too much to say that you have destroyed, and driven for protection under neutral flags, one half of the enemy's commerce which, at the beginning of the war, covered every sea. This is an achievement of which you may well be proud; and a grateful country will not be unmindful of it. The name of your ship has become a household word wherever civilization extends. Shall the name be tarnished by defeat? The thing is impossible! Remember that you are in the English Channel, the theatre of so much of the naval glory of our race, and the eyes of all Europe are at this moment upon you. The flag that floats over you is that of a young Republic, who bids defiance to her enemies, whenever and wherever found. Show the world that you know how to uphold it! Go to your quarters."
In turn, Captain Winslow in Kearsarge, focused his glass upon the approaching enemy, and ordered his executive officer: "Beat to Quarters!"
As soon as Alabama cleared the breahwater, Semmes could see the enemy slowly steaming away, but when the two ships were within a mile of each other, the Union ship turned and presented her starboard guns at the Confederate ship.
Alabama was the first to open fire, followed by two more wild shots, now Kearsarge turned coming at full speed, when as close as 900 yards she unleashed a full
Civil War P 66.
broadside, proving faster than Semmes had expected.
Forward Pivot gun in USS Kearsarge that played a major role in sinking of CSS Alabama, the 19th. of June 1864.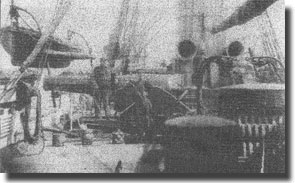 Both ships exchanged broadsides from ranges between 800/1,300 yards, and Semmes could not escape outside the range of Winslow's heavy guns, nor could he get close enough to board the enemy, seven times the two protagonists circled each other, a three knot current slowly sending them westward.

After 15 minutes, Semmes saw his gunners land a shell in Kearsarge's stem post, but it failed to explode, such is the luck in battle, this shell should have meant the end of the Union ship, but for want of an effective percussion cap, the enemy survived, on such a slender thread may the outcome of a battle hinge.

Apparently, Kearsarge had an unseen armour of chain mail fitted around her midships area to give added protection to this vital section of her hull, and it was doing the job intended.

The shells from Alabama that landed, but did not explode, were proving crucial in this battle, meantime, the 11 inch shells from the Union ship were having a devastating effect, the Confederate's colours were shot away, but Lieutenant Kell soon ran up a new flag at the mizzen.

Water was rushing into Alabama through the shell hole at her waterline, and she began to list, and was losing this fight, Semmes ordered Kell to make sail for the coast as soon as the bows swung in that direction.

But Winslow anticipated this run for the safety of international waters, and quicky placed his ship between Alabama and freedom, as Kell told his Captain that the ship would only stay afloat for another 10 minutes.

Semmes who was wounded, ordered Kell to : " Then, Sir, cease firing, shorten sail, and haul down the colours. It will never do in this nineteenth century for us to go down and the decks covered with gallant wounded."

Kell carried out these orders, but Kearsarge fired another five more shots after the colours had been struck, thinking Semmes was up to some trick. A white flag raised at Alabama's stern finally brought the slaughter to an end, with his ship sinking a boat was sent off to the Union ship asking them to save the wounded, but to no avail, no aid was coming from that direction.

Kell, of necessity, loaded as many wounded as practicable into the least damaged of his boats and sent them with Surgeon Galt, Fullam, and Lieutenant Wilson to the Union ship. Now Semmes, in his final command, told Kell to order: "Abandon Ship! and all hands to save themselves."

The remaining crew threw themselves over the side into the cold English Channel,

Civil War P 67.

Kell and Semmes the last to leave the stricken ship.

Kell clutching a grating, grabbed his wounded Captain seeking in vain the safety of a lifeboat, later he wrote:
"On the wild waste of waters there came no boats, at first, from the Kearsarge to our rescue. Had victory struck them dumb, or helpless- or had it frozen the milk of human kindness in their veins?"
In less than an hour and a half, Alabama had reached the end of her quite spectacular career, Lieutenant Sinclair, also in the water watched her sink in 40 fathoms ( 240 feet ): " The Alabama's final plunge was a remarkable freak, and witnessed by O'Brien and self about one hundred yards off. She shot up out of the water bow first, and descended on the same line, carrying away with her plunge two of her masts, and making a whirlpool of considerable size and strength."
During the fight, the English Yacht Deerhound, nearby to watch the battle had stood off safely to windward, at 1230 ( 12.30 PM ) seeing no rescue attempt was in train from Kearsarge, steamed over to the Union vessel, here, they were frantically trying to repair their boats, all damaged in the scrap.
Winslow shouted down to the owner John Lancaster: "For God's sake, do what you can to save them!"
Deerhound scurried off to the rescue, lowering her boats, sifting through the debris to rescue whoever they could find. The yacht's chief steward, recognising Semmes who he had met earlier at Gibraltar, hauled him aboard more dead than alive, Kell was also picked up, delighted to find his Captain not dead as he had assumed.
42 men were picked up by Deerhound's two small boats, and Kearsarge finally collected another 70, two French Pilot boats picked up 15 men. John Lancaster asked Semmes where he wanted to be landed, without any hesitation, he said: "I am under English colours, the sooner you land me on English soil the better."
Winslow paroled and released most of his captures, retaining but four officers and some of the wounded, later he was criticized for paroling any of them , and the Union Secretary of the Navy was most irate that Semmes and the principal officers had escaped.
But the President saw fit to promote Winslow to the rank of Commodore for his defeat, at long last, of the dreaded Rebel Raider, Alabama.
The Union ship with her larger calibre of gun fired 173 times, whilst Alabama used her guns 370 times, she had nine killed in the battle, and another 12 drowned, on the other side of the coin, Kearsarge had only 3 wounded, one of whom later died.
Observers on shore, were quick to note that shells from the Union ship emitted a
Civil War P 68.
quick bright flash, but those from Alabama, exhaled a dull flame and a mass of sluggish gray smoke.
You will recall Kell's worry about their ammunition not exploding every time on impact, and without much doubt, it was this defect in this segment of Alabama's gunnery department that caused them to lose the fight, and in turn, lose their ship.
After Deerhound landed Semmes and 41 of his men at Southampton, US Minister Adams was clamouring for them all to be handed over as POW"S to US authorities, but Lord Russell ruled that the Confederates had never been physically taken by Winslow and his crew, and dismissed any claim on them.
A grateful Southern Government promoted Semmes to Rear Admiral, and Kell to Commander, the crew were paid off, and Semmes made a 6 weeks visit to Europe with the Trembletts and some other English friends.
By October, Semmes had sailed for home, and Welles was out to capture him when he tried to beat the Union blockade, again Semmes proved too wily, he landed at Matamoros in Mexico, took a skiff across the Rio Grande to Brownville Texas, and made his way back to Richmond.
On the 10th. of February, 1865, Semmes was placed in command of the James River Squadron , when the southerners evacuated Richmond, he blew up his ironclads, and taking his Naval Brigade, he followed in the footsteps of the retreating army to Virginia. He then was given a commission as a Brigadier General, still retaining his naval rank of Rear Admiral, a most unusual appointment!
But for the fighting Brigadier and Rear Admiral, the war was over, on the 1st. of May in 1865, he surrendered in Greensboro, at the Britannia Hotel, to the Union General William Hartsuff.
His return to civilian life was rudely shattered, when on the 15th. of December of that year, 22 armed regulars appeared at his Mobile home and removed him on the order of Welles, the Naval Secretary. The charge stated he had violated the " Usages of war." by escaping after he had surrendered to Kearsarge, and he was imprisoned awaiting trial.
Welles continued to hassle his former tormentor, trying to bring him to trial, but the Judge Advocate General John A. Bolles continued to argue that Semmes had no case to answer, finally it was all over, President Johnson proclaimed the war was at an end on the 3rd. of April 1866, and Semmes was pardoned without a trial, and released.
The proclaimed end to the Civil War brought a public outcry about the damage wrought by the Confederate Raiders against the US merchant fleet. Alabama and
Civil War P 69.
and her sister ships had been built in Great Britain, and both the US public and their Government believed that she should be called to account.
These demands evolved into a lengthy court case which became known as the Alaabama claims, of the $ 15, 500,000 awarded to the US at the Geneva Arbitration in 1872, Alabama on her own, accounted for nearly half of this total, namely $6,750,000.
Although the United States won this case at arbitration, Great Britain considered it was but a small price for her to pay, to regain dominance of world commerce at sea, and eliminate her main competition, the US merchant marine.
This almost ends the saga of Rear Admiral Raphael Semmes, and his intrepid ship, CSS Alabama, over 22 months, had captured 64 merchant vessels and a Union warship, in the last gunnery duel between wooden ships, she met her match off Cherbourg, and was sunk by USS Kearsarge, on the 19th. of June in 1864, but the final chapter remains to be unfolded.
For 120 years the Alabama was considered to be laying beyond reach, the water too deep, the currents far too strong to even consider a salvage attempt.
In October of 1984, a French mine sweeper, Circe found a wreck 7 miles off the port of Cherbourg, the French navy had for years been hoping to find the sunken Alabama, Bruno Duclos, Captain of Circe, send down a remote operated underwater vehicle and scuba divers to take photographs of this wreck.
They found an iron funnel or chimney, scattered coal and Staffordshire china, and the wooden hull of a warship built many years before, but who now owned this vessel? She sat on the bottom well inside the 12 mile limit denoting French territorial waters, Britain, and of course, the US were all interested.
To manage this project, the CSS Alamaba Association was formed, to be headed by the President of the French Commission for Maritime History, Ulane Bonnel.
In 1988, whilst the diplomatic debate about this ship was still raging, work to evaluate the wreck was started, owing to the coldness of the Channel waters, the depth at which the ship lay, and the current running at 3/4 knots changing its direction four times every 24 hours, it was only possible to dive over 2/3 weeks in early summer. Even then, it had to be at slack water, which lasted for but one hour, and divers could only work in 15 minute bursts.
Alabama rested at a 30 degree angle, protective sand piles had built up, and parts of the ship had been totally torn away, the depth of nearly 200 feet presented problems for scuba divers, nitrogen narcosis was evident, bluring the divers perception of what they actually viewed and later tried to report on their return to the surface.
Civil War p 70.
The capstan and anchors were found, and the ship's wheel engraved with the ship's motto: "God helps those who help themselves." Indeed, I believe that both Semmes and his crew lived by that engraving on the wheel, visible to all on a daily basis, as they steered their ship around the oceans of the world, decimating US commerce.
On the 3rd. of October 1989, France and the United States signed an historic document, agreeing to form the "Joint French/American Scientific Committee for the CSS Alabama."
On the US side, were Dean Allard, Director of US Naval History, and Edward Bearss, senior historian of the National Park Service, and for France, Robert Leque Mont, director of under water archaeological research, and Eric Reith, a university professor of archaeology.
Over the next four summers, divers struggled to take measurements, and a video tape was made, Electricite de France became the first industrial sponsor, loaning a remote controlled caterpillar submarine which was used to shift sand and debris away from the wreck site.
In 1993, Brazilian coins were recovered, and many artifacts came to the surface, amongst them four porcelain flushing commodes all decorated with exotic scenes.
The Blakely cannon was released from its sandy prison, but the majority of this Confederate Raider will remain forever on the sea bed, 47 artifacts are being conserved in Maryland using a USN grant, and others are being similarly preserved in France.
In the city cemetery of Cherbourg rises an obelisk, commemorating the seamen from Alabama, who died so long ago in that last frantic battle at sea off this French, Channel port.
Recovery of the Alabama's ship's bell.
On the 28th. of June 2002, French divers led by Bettrand Sciboz, recovered the ship's bell from CSS Alabama, although it had been buried on the sea bed for almost 150 years, laying amongst the wreck and debris of this Confederate Raider, the bell was still in remarkably good condition.
The wreck lies at 49 degrees 45.147 minutes North and 01 degrees 41.708 minutes West, 7 miles off the French port of Cherbourg.
This draws to a close, the fascinating story of a bold, innovative Captain of the Confederate Navy, Raphael Semmes, and his crew of CSS Alabama.
Map of English Channel showing where Alabama was sunk by Kearsarge on the 19th. of June 1864,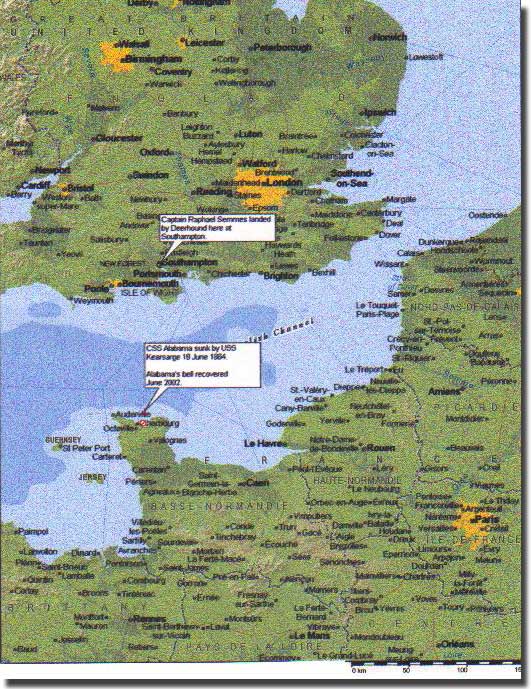 back to Confederate Merchant Raiders index