CSS Nashville.
This Confederate Raider was constructed in 1853, to be a coastal trader and carry passengers, she was a fast 1,200 ton side wheeler, but like most side wheelers did not shine as a sailing ship.
CSS Nashville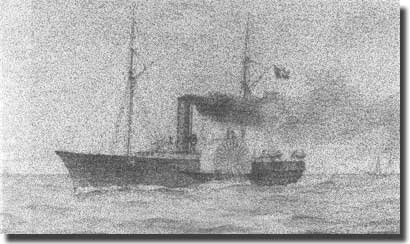 Mallory had been given the task by President Davis of transporting two Confederate Commissioners, John Slidell to France, and James M. Mason to England, in a bid to get recognition of the Southern cause. He paid $100,000 for Nashville, and refitted her, lightening the ship, decreasing her draft, and moving to increase her speed to 16.5 knots, generally faster than any Union opponent.

Lieutenant Robert B. pegram was given command, he obtained two English made 6 pounder guns from the Governor of South Carolina, and mounted them pivotally.

By the time she was ready to make a dash for Europe with the diplomats, the Union side had placed four of their warships off Charleston Harbour to catch Nashville.

With this avenue blocked, Slidell and Mason offered to charter the fast steamer Gordon for a $10,000 fee, this amount was too much to ignore, and the ship sneaked into Cardenas, Cuba on the 16th. of October 1861, now the two bound for Europe took a train to Havana, to take passage in the British Royal Mail steamer Trent.

Nashville managed to slip out of Charleston on the 26th. of October, made it to Bermuda, coaled, and set out on the long trip to Liverpool.

But on the other side of the island to Slidell and Mason, the Union ship,a 14 gun screw steamer San Jacinto commanded by Captain Charles Wilkes learned of their forthcoming passage in Trent, he decided to act. Without formal orders, Wilkes intercepted and boarded Trent in the Bahama Channel, and forced both Mason and Slidell back to San Jacinto, and scurried off to Boston with his two prisoners, arriving there on the 19th. of November.

That same day, Nashville was off the west coasat of Ireland, and captured the 1,482 ton clipper Harvey Birch, prisoners, and navigational instruments were transferred, and the ship burned.

Two days later Pegram anchored off Southampton, and released the 41 prisoners and passengers. News of the heavy handed approach by Wilkes arrived in England soon after, and did much to stir up British sympathy for the Confederate cause.

The Trent Affair did a great deal for the South, even to emissaries from Britain, France, and Spain, meeting secretly to consider the recognition of the Confederate States. Pegram needed an overhaul for his ship, battered by Atlantic weather during her long voyage to Liverpool, his request was granted, and the ship docked.

Civil War P 87.

The then Union Secretary of the Navy, Gidgeon Welles gave orders to Commander T. Augustus Craven of USS Tuscarora to proceed without delay to the English coast, see if Nashville remains at Southampton, and if possible seize that ship without invading the neutral rights or jurisdiction of England.

At great haste Craven took his ship to Southampton, arriving on the 8th, of January 1862, Pegram was about to leave that port, which has two distinct exit routes, so Craven anchored within the harbour, only a mile away from Nashville.

On the Trent Affair front, the US released the two Confederate diplomats, averting the possibilty of Britain going to war over this episode, it had been a close run thing, even despatching 8,000 British troops to Canada, but this event now went off the boil.

The cat and mouse standoff between Tuscarora and Nashville dragged on for months, with neither ship wanting to make the first move, there was great debate over the 24 hour rule, it was an international convention of neutrality, that after the first vessel left port, the other must wait 24 hours before following.

But what defined "First start?" Captain Patey, Royal Navy stated it was the vessel that first tripped her anchor.

The Foreign Office, redefined a belligerent's right to occupy ports, under the 90 day rule, a belligerent could apply for approval to coal, provision, and make repairs, but a time limit would now be set by the local authorities, after which any visiting vessel must depart. This now allowed the Southampton maritime authority to demand both Craven and Pegram depart, one at once, the second 24 hours later.

Pegram now feared if Craven left first, he would lurk outside the harbour waiting to grab his ship when he left, his two meagre 6 pounder guns, no match for the more heavily armed Union ship.

Pegram appealed to the Duke of Somerset that having to wait for 24 hours after Craven had left would lead to his capture. He asked to be the first to exit Southampton, so, on the 3rd. of February escorted by the British frigate Shannon, Nashville steamed past Tuscarora, and headed for the open sea.

Pegram cheekily invited his rival, when passing him, to give chase, if he thought that Tuscarora was fast enough to catch Nashville, a challenge not taken up the next day, when the Union ship sailed and made for Gibraltar.

Pegram set out for a southern port, but was forced to call in at Bermuda for both coal and some minor repairs caused by the continued northern gales. Arriving at St. George on the 20th. of February for a four day stay, they now made for Beaufort.

Civil War P 88.

In two more days, Nashville came across the schooner Robert Gilfillan, on her way from Philadelphia to Santo Domingo, loaded with assorted provisions.

When the boarding officer, John Ingram went onboard, the ship's master was of the opinion that he had been stopped by USS Keystone State, and regaled Ingram with stories of Yankee victories in the war. He was very suprised when he was ordered to:
"Haul down your flag, and take your papers aboard my ship immediately.... That vessel is the Confederate States steamer Nashville and you are my prisoner."
The ship was now burned, only the second, and the last victim of Nashville, she had a short career, most of which was spent holed up safely in port.
On the last day of February, on patrol off the Beaufort inlet, USS State of Georgia sighted Nashville, 3 miles off, the Union ship closed, and Commander James F. Armstrong held his fire, he also thought the ship closely resembled USS Keystone State, and she was flying the American flag.
But, as soon as Pegram had passed the slower Union vessel, he replaced the flag with his own Confederate flag, and sped quickly away, Armstrong fooled, turned to set off a 21 gun broadside, all to no avail, the shots all fell short. At 0700, ( 7AM ) Fort Mason was passed, and Nashville secured alongside the wharf at Morehead City, her career as a Confederate Raider over.
The ship was sold as a blockade runner, to Fraser, Trenholm and Company of Liverpool, also based in Charleston, they were a commercial banking firm. She carried cotton to Nassau, and arms into the confederacy, now named Thomas L. Bragg. In July, after making it into the mouth of Georgia's Great Ogeechee River, three Union gun boats kept the ship bottled up there for the next eight months, she became a privateer Rattlesnake.
The monitor Montauk, commanded by Commander John L. Worden was among the Union ships keeping watch, he planned to move up river to destroy this troublesome ship, but just below Fort McAllister was a formidible barrier of stakes and torpedoes barring the way. On the 27th. of February in 1963, Rattlesnake had moved down river in the night, but had grounded just below the fort, the next high tide in the morning would be bound to float her free.
Worden with 3 gunboats moved in, ignoring heavy fire from the fort, he concentrated shelling the impotent Rattlesnake , setting her alight, a magazine exploded, ending the life of the ship that had been CSS Nashville.

back to Confederate Merchant Raiders index