CSS Shenandoah.
With Alabama sunk, Mallory again turned to Bulloch in England, on the 16th. of July 1864 he ordered him to find a suitable replacement for the most successful Raider ever operated by the Confederates, a tall order indeed.
Bulloch as part of his brief, closely watched British shipyards, for suitable vessels, and the previous summer had cast his eyes over a potential blockade runner, Sea King, "A fine, composite, full rigged ship, with something more than auxiliary steam power, and all the necessary arrangements for disconnecting and lifting her screw."
CSS Shenandoah high and dry in the graving dock at Williamstown, a suburb of my own city of Melbourne. February, 1865
But there was a catch, she was off on her maiden voyage, a 10 month trip to Bombay, and was not for sale.
After the despatch of Alabama, one of Mallory's staff suggested to him that the South should mount a raid on the Union Pacific whaling fleet, Lieutenant Robert R. Carter was given a letter to deliver to Bulloch, instructing him to seek out two such vessels. Before Carter arrived, Bulloch had managed to get hold of Sea King, at Glasgow, using Richard Wright to buy her, his old friend Captain Corbett, a British master, used to blockade running put in charge, told to sail to London, coal, and wait.
Using his tried and true formula, he looked for a suitable tender, gathered officers, purchased arms and ammunition, and set about securing a crew.
James Iredell Waddell, Captain of CSS Shenandoah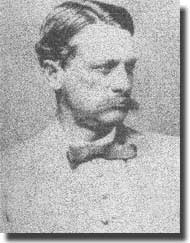 Although Bulloch asked for Lieutenant William H Murdaugh to take command, he was unavailable, and Lieutenant James I. Waddell was sent instead.

He had been born in the south at Pittsboro, North Carolina and joined the USN on the 13th. of July 1824, as a Midshipman, he carried a permanent limp, occasioned by a duel he had fought with another Midshipman , but had stayed in the Navy, promoted to Lieutenant in 1855.

Waddel was stationed in a far east posting when the Civil War erupted, he resigned his commission on the 20th. of November 1861, made his way home, to find he had been stricken from the Union rolls, and three months pay not forthcoming.

Lieutenant William C. Whittle was appointed as the executive officer, having served in Nashville, and Bulloch now bought Laurel, a fast small iron screw steamer which had been on the Liverpool/Ireland run.

A Confederate Navy, Lieutenant John F. Ramsey who had a number of years in the British merchant Navy, and held an important Board of Trade master's certificate, was placed in charge of Laurel, who had the outward appearance of a British vessel, about to depart for Havana.

Civil War P 72.

Both these ships were ready to sail on the 5th. of October 1864 to Madeira, Sea King cleared the Thames, passing two Union warships on patrol at the river's entrance, once more a potential Raider had got away under the noses of their enemy.

Laurel managed to clear the Mersey, with Lieutenant Wadell on board, and made tracks for the Madeira Islands, the newly appointed Captain of the latest Raider, studied his brief from Bulloch, and began to worry whether he was up to succeeding in this new role, he did not appear to be confident, and certainly did not have the experience of people like Maffitt and Semmes.

On arrival at Funchal, there was no sign of Sea King, Laurel coaled and stalled a customs enquiry as to why they had not sailed, pleading the need for some ship repairs, two days later, off the harbour entrance appeared a ship flying the Union Jack, the wait was over, and Laurel, having retrieved her papers from ashore, headed out to rendezvous with Sea King.

Both ships came alongside each other, anchored at Las Desertas, a lonely spot a few miles south of Madeira, in a very short time guns were hoisted aboard Sea King, now Waddell needed to recruit a crew for the latest Confederate Raider, from the men who manned both Laurel and Sea King.

His offer of two months extra pay to enlist in the Confederate Navy converted only two, a cabin boy and a fireman, Waddell now used the lure of gold, a bucket of sovereigns was brought on deck, up went the ante, but only two more men were bought. Captain Corbett returned to Laurel, and of the 55 men who made up the Sea King crew 51 went with him.

Finally, Waddell could only coax another five to join, in all, he had but 19 crewmen, 23 officers making 43 to man his new command, and he needed at least 150 to sail and fight the ship. His leadership was certainly being tested, he turned to his officers for advice, the burden of their counsel was to go to sea, and try to recruit sufficient seamen from prizes yet to be taken.

Waddell read his articles commissioning CSS Shenandoah, and took his ship to sea, he had an unenviable task in front of him, essentially a merchant ship, the decks crowded with stores, gun ports yet to be cut, batteries to be mounted, the conversion to a confederate man-of-war, usually performed in a navy yard, now to be made at sea with an inexperienced and very limited crew. No wonder Waddell had moments of doubt about his ability to emulate those who had travelled this road so well before him.

When trying to mount the guns, it was found no gun tackles had been supplied, without them, if the guns were fired, the recoil would carry them to the other side of the ship with devasting effect. Although the guns appeared through newly cut gun ports, threating any ship approached, it was a threat in name only, they could not

Civil War P 73.

be fired in anger. Waddell in reality, had but two 12 pounders that could be safely fired, all he had to find both new crew members and heavy tackles with which to secure his main armament, he headed south.

On the 28th. of October after an already difficult period at sea, a ship was sighted, it proved to be Mogul, although built in the States, she was registered in London, and was released. Two days later, a brand new bark, the 574 ton Alina of Searsport, Maine off to Buenos Aires with a load of railway iron, was captured.

Tackles for the guns, and provisions were duly liberated. plus a large quantity of cotton canvas for sails, all duly acquired, and the ship scuttled.

Seven new crewmen were signed on, and the voyage southwards continued, and on the 5th. of November, the small 150 ton schooner Charter Oak from Boston was taken, her Captain Sam Gilman, had his wife, her widowed sister and her 4 year old son with him, and the vessel burned.

In two more days time, an old Boston bark of 299 tons was overtaken, she carried beef, pork and lumber for Valpariso in Chile, although Waddell wanted this meat for his crew, the 40,000 feet of timber needed to be removed to get to the meat, the day needed for this task was too long to wait, and the ship was burned.

On the 9th. of November most of the prisoners were transferred to a Danish brig, Anna Jane, the Alina's chronometer and some provisions being the passage money to ensure this transaction was honoured.

Captain Gilman and the ladies staying on board, hoping to find a ship to take them to California in due course, the next day, found the 134 ton Susan from New York a victim, men and a dog now joined the crew.

Now a 1,100 clipper, Kate Prince with cardiff coal was captured, the Captain's wife Mrs Libbey told the boarding officer, Lieutenant Lee that her husband and the 21 crew were all southern supporters, and would join Shenandoah's crew, but Waddell decided he did not want a third woman in his ship, also he ruled the cargo was neutral, he bonded the ship for $40,000, got rid of the Gilmans and the widowed sister, releasing this ship.

In a short time, another ship was stopped, Adelaide, although built in a New England yard she flew Argenitian colours, no bill of sale could be produced, and her master admitted he was bound for Rio, from New York, and the flour belonged to a New York company, and Mr. Prendergast of Baltimore owned the ship, but he was "A good Southerner." This did not satisfy Waddell, food was removed, and the Captain perused a bundle of letters, to find that Prendergast was indeed a Southern shipping merchant who succeeded in running his business from Baltimore. He ordered the food returned, and wrote a letter of apology for the damage to this ship, and let the

Civil War P 74.

vessel go, after bonding her for $24,000.

Just north of the equator, a 140 ton Boston schooner, Lizzie M. Stacey making for the Sandwich Islands, was burned on the 13th. of November, and 3 more crewmen gained, but Waddell was still desperately short of seamen.

The ship coasted down the southern part of Brazil, no more prizes over the next three weeks, the news that yet another Raider, had been converted from Sea King, broke in both the United States and in Britain.

Secretary Welles having finally been rid of the accursed Alabama, was now faced with a new threat in CSS Shenandoah, but had no inkling of her whereabouts or her destination.

Deep in the Southern Atlantic, the ship came across a New Bedford whaler, the 274 ton Edward, with black smoke rising from her decks, a sure sign that she had just taken a whale. The boarding officer reported she carried a large supply of most useful stores, it took two days to remove all the plunder, including two fine boats, almost new, in contrast to Shenandoah's old ones, then, the bark was burnt.

The crew put ashore on a local island, and on the 7th. of December, Waddell set course towards Cape Town, the propellor shaft was giving off strange noises, and on inspection revealed problems that could not be cured underway, and at the Cape, the chance of capture by a waiting Union warship decided the Captain to run under sail, some 6,000 miles to far off Melbourne, Australia. This port, would no doubt be the very last place that any Union ship would be waiting at, to trap his ship.

USS Iroquois having learned that he missed Shenandoah, made a calculated guess that she would make for the Cape, and set off in pursuit, and arrived there on the 9th. of January 1865, only to learn there had been no sign of the Confederate at that port. Rodgers now set his ship enroute for Sumatra, this time, a poor guess.

But back to Shenandoah, at the end of December she came across a 750 ton bark Delphine, without cargo, in ballast for Akyab to collect a load of rice, her Captain pleaded that his wife on board was ill, her removal may occasion her death. Waddell sent off his doctor to examine the lady in question, returning to report she was 26 years of age, about half of that of her husband, and in perfect health.

Lilian Nichols was the owner's daughter, it took two whaleboats to transfer her, all her possessions, a maid, her son, library, and lastly a caged canary.

Delphine was soon torched, and six of her crew elected to join up as part of the Raider's crew, and the run to the east continued.

When within 100 miles of the south west coast of Australia, a clipper, Nimrod was

Civil War P 75.

overhauled, but although built in New England, had been sold to an English firm, and was released.

By the 25th, of January, Waddell stood off the entrance to Port Phillip, and asked for a Pilot, who responded that his orders prevented him from bringing a belligerent ship into harbour without a good reason, Waddell pleaded problems with his propellor shafting, which seemed good enough for Pilot Edward Johnson. Waiting off the heads, a health official came on board and indicated that the Confederate would find many friends in Melbourne, but warned of some enemies awaiting.

The ship received government approval to stay in port, provision, and make repairs to the propellor shaft, meantime, the locals turned out en masse to view the Rebel Pirate, her officers regaled with dinners ashore, and balls turned on in their honour.

US Consul William Blanchard protested to Governor Darling, that as Sea King had not visited another British port since she left England, she did not qualify as a warship, and should be designated a Pirate, but the Governor indicated that his law officers of the Crown had: "Come to the decision that, whatever may be the previous history of Shenandoah, the Government of the Colony is bound to treat her as a ship of war belonging to a belligerent nation."

Now, Blanchard tried another ploy, he indicated that he would protect any crew member from the Confederate ship who had joined from a captured American vessel, 8 deserted, followed by another 6 later.

The repairs were taking their time to be executed, and the US consul believed that Waddell was merely stalling whilst trying to build up his crew numbers from the locals, and asked the police authorities to intervene. Superintendent Lyttleton, and Inspector Beam, of the Victoria went on board on the 13th. of February whilst Waddell was away from his ship, they carried a magistrate's warrant to search for Charley the Cook, Lieutenant Grimbell, in his Captain's absence, refused to allow such a search.

Now, Waddell also refused to allow a search on the following day, indicating he had not enlisted anyone since his arrival in Melbourne, the police reported to the Governor who summoned his Executive Council. The result, a message was drafted indicating that all repairs would be suspended, and the ship detained until the warrant was satisfied. At 1600 ( 4 PM ) police took over the ship, cleared the yard and stopped any further Australians from visiting the ship, and the official letter delivered, the messenger waiting for Waddell's response. It was 2200 ( 10PM ) before the Captain replied, indicating to the Commissioner of Trade and Customs James C. Francis, he would be ready to sail on the 19th, of February, in a second letter to Francis he indicated that: "the execution of the warrant was not refused, as no such person therein specified was on board, but

Civil War P 76.

only those who had entered this port as part of the complement."

But Constable Alexander Minto from the Williamstown water police noticed a boat at Shenandoah's gangway, and four men hastening down to jump in this boat, he chased it to shore, nabbed two of the occupants near the railway station, and found the other two lurking in a nearby toilet.

All were goaled, and one suprisingly like the description of " Charley the cook."

The next day, the executive council was again called to review this latest evidence, and a further letter arrived from Waddell indicating he had been told his ship was seized, and he wanted to know on whose authority.

Governor Darling also wanted to know what was going on! Thomas H. Fellows of the Crown Court posted a public statement: "I am of the opinion that the Government have not the power which they claim. A ship of war commissioned by a foreign government is exempt from the jurisdiction of the courts of other countries."

The Governor wanted Waddell chided, and demanded that Shenandoah sail by the 19th. of February, two days in advance of this deadline, after loading 250 tons of coal, the ship was prepared for sea.

Forty men were gathered on the beach at Sandridge, the original name for the port at Melbourne, which these days carries the name of Port Melbourne, three boats were seen to load these men, and row out to the Raider.

The US Consul forever watchful, rushed off a letter of complaint about illegal recruiting to the Governor, but the Crown Law office was shut for the day, and he could not get any action. He tried the police, outside our jurisdiction, they said, not one to give in easily, Blanchard dashed off to see the attorney general, George Higinbotham at Parliament House, he too, refused to help, but advised seeing Mr. Sturt, a county magistrate, but no, he would not issue an affidavit, and told Blanchard to file a charge with the Williamstown water police, across the bay.

Blanchard now documented the story narrated by Forbes who had first made the report about the 40 men going off to Shenandoah, sent it off to the attorney general, grabbed Forbes to go with him to try and get the Williamstown water police to act, en route, Forbes had second thoughts, thinking about his personal safety, he pulled out. Blanchard without his witness went back to his office, fuming at all the inaction to his complaint.

Now, a George Robbins, a stevedore, turned up at Blanchard's office, and indicated he had seen boatloads of men plus their baggage crossing by boat to the Shenandoah, and that he could name some of these men. Blanchard was now too tired to act, but entreated Robbins to report his information to the Williamstown

Civil War P 77.

water police, he returned to his boat, and started to row the distance from Sandridge to Williamstown, close by Shenandoah, he came on a boat manned by two murky characters he knew, Jack Riley and Robert Muir, they overhauled him, and threatened him if he passed on his information to the police. Robbins hit one of the thugs on the head with an oar, and smashed the second one's fingers, then raced them to the water police. Too late, Shenandoah at 1600 ( 4 PM ) was off, steaming down the bay making for the open sea.

When well clear of land, a number of strange faces emerged from various hiding places, as 45 new crew members, all claiming to be natives of the Southern Confederacy came on deck.

The local papers in Melbourne had a field day, Robbins story made the headlines, announcing Waddell had shipped 40 to 80 British subjects, Muir and Riley were charged, confessed, and were given brief gaol terms.

Then "Charley the cook, and his three mates went on trial in mid March, but in fact it was Shenandoah on trial, early on, the defence counsel asked the prosecution to prove that the Confederate States and the United States were actually at war.

Blanchard was subpoenaed to testify that the Confederate States were in fact a government, the US Consul, livid at being summoned to the court, reminded the Governor that his Government had allowed Shenandoah to enter the port because she was a belligerent, and now they expected him to provide proof.

The Governor ducked for cover, all a mistake, he proclaimed.

The rowdy court room obviously favoured an acquittal, all four had already spent 30 days in custody, Davidson ( Charley ) and one of his mates were sentenced to 10 days in gaol, one was released as he was an American, and the fourth let off, he was but 17 years of age.

The farce was over, and the case considered closed, but Waddell and his Officers were considered as liars, this slur went no further, by the time this story reached Richmond, the Coinfederate Government was no longer in existence, the Civil War was over.

Now Shenandoah sailed freely into the Pacific, no sign of any Union warship to bar her progress. Wyoming had been ordered home from Batavia, and Iroquois still struggled across the Indian Ocean towrads Singapore.

When news of her stay in Melbourne did finally reach Washington in March, Welles ordered Wyoming to go after her, he thought the Raider would cruise the South Pacific or the coast of Chile, his predictions about where the various Southern Raiders might next move to, had never been anywhere near the facts, he lived up to

Civil War P 78.

his usual form, wrong once more.

Waddell had elected to sail north towards the Okhotsk Sea off the eastern coast of Siberia, where the American whaling fleet was known to operate.

No sign of a prize for the next month, when just short of the Equator, the ship was close to Drunnond Island where whalers came to refresh their water supplies, a Malay seaman indicated there had been no whalers for several months.

A few days later, the ship learned from a Hawaiian schooner Pelin, that five whalers had recently been seen at Ponape, Waddell raced for this area, hoping to catch this fleet before it sailed north.

April Fool's Day found Shenandoah raising the jungle peak of Totolom at Ponape, the lookout reported four sail in the harbour, a boat was coming towards them. It held Thomas Hardrocke, an Englishman who as a convict, had escaped from Australia, married one of the local native girls, and made his home on the island.

The Raider entered the harbour firing a 12 pounder as she anchored, four vessels flew their flags, three American, the last Hawaiian, four prize crews were sent away.

The papers of Edward Carey from San Francisco, Hector of New Bedford, Pearl of New London, and Harvest from Oahu, were all collected. The last ship showed a bill of sale to Hawaiian owners, but she carried US flags in her hold, had American registry, a Yankee master, and all the mates from the previous voyage were still listed. Waddell declared her to be American, and all four were condemned.

Whaling charts showing the track taken by whalers were found, wonderful information, Waddell no longer had to search willy nilly for whaling ships, he had the key to their fertile whaling grounds, and the courses they took to arrive there.

Master's Mate Hunt, and the Englishman Hardrocke, were sent ashore to see the local native chief about disposing of the four captured ships. Hardrocke said the chief had recently poisoned his wife so he might remarry, but when Waddell later made her acquaintance, he described her as: The Queen was downright ugly, the first really ugly woman I have ever seen."

The King was offered the right to remove anything his tribe wanted from the four captured ships before they were burned, if he would retain all the prisoners, a deal was struck, Waddell was now presented with the Royal Princess, it took some diplomatic skill to get out of that one.
It brought to mind, when Aide-de- Camp to the Australian Governor General, we were making an official visit to Mount Hagen, high in the New Guinea mountains, the local Chief, a towering man over 6 feet 6 inches, in a grass skirt, his body glistening from
Civil War P 79.
pig fat, used to keep warm at this altitude of about 7,000 feet.
The chief enjoyed 7 wives, the Administrator of Papua/New Guinea, Colonel Murray, on a previous visit had been offered the Chief's youngest and fairest young wife.
He told the Governor General, " I did not know who to offend, the Chief or Mrs Murray, if the Chief offers you a wife today Your Excellency, YOU ARE ON YOUR OWN."
Fortunately on that occasion the Chief's tribute amounted to the gift of a hundred weight sack ( 112 pounds ) of local nuts.
At home, at the Appomattox Courthouse, in Virginia, Robert E. Lee had surrendered to Ulysses.S. Grant, the Civil War war was over, but Captain Waddell, his crew, and their ship Shenandoah were stateless, without a country, but they did not yet know that.
On the 13th. of April, all prisoners had been landed, except for 7, who had joined the Raider, all the prized had been burned, and once more Shenandoah was off to seek her prey, any Union vessel that could be found.
Over the next six weeks she worked her way slowly northwards, and after crossing the 45th. parralel of latitude, the weather became colder, with fog much in evidence.
By the time the ship sailed into the Okhotsk Sea, ice was forming in patches, and unlike the sturdy construction of the whalers, Shenandoah was not constructed to act as an ice breaker.
On the 27th. of May, a ship was found on the edge of an ice field, Waddell hoisted a Russian flag, at 500 yards from Abigail, a blank shot was fired, Thomas S. Manning, one of her mates, although from Baltimore, professed to Southern sympathies, signed on as acting master's mate, and 14, of the crew of 35 changed their allegiance, and became crew members of Shenandoah.
Abigail carried a large amount of alcohol, which the Captain had intended to trade for furs, the prize crew soon found it, and promptly sampled this find, when they did not return, a second crew were sent over, only to follow the original prize crew's example. To root them out, Waddell took an armed party over to the alcohol laden ship, the armed party joined in the celebrations, now it was "Call in the Marines!" Arriving with every intention of doing their duty, the Marines also joined in on the party, another sail was in sight, Waddell sent officers over to Abigail to clean up this mess, they paused for a little refreshment, some becoming drunk.
At last the drunken party was over, and everyone was back on board, but before the sodden crew could get under way, the whaler had vanished in a squall.
Civil War P 80.
Waddell issued an order to Whittle that private appropriation of prize property is prohibited. But the Captain's tenuous hold on discipline was slipping, and this order was ignored, and for four days many of the crew were again drunk, from bottles of liquor they had liberated from Abigail, and retained.
As the ice was closing in, and no whalers were to be found, the ship turned southwards on the 6th. of June, and made for the Bering Sea.
On passing Jonas Island, snug and safe behind a field of ice, were 10 whalers.
In the Bering Sea, thick fog was the order of the day, until on the 21st. of June, as the sky cleared, what appeared to be a sail was sighted, and the Siberian coast was but 5 miles away, the sail became a rock.
With the introduction of kerosene, in competition to whale oil, by the summer of 1865, the former large North Pacific whaling operation had been cut back to only 85 ships.
We have noted the 10 hiding in the ice, another 11 were on their way to the whaling grounds, thus leaving 58 in the Bering Sea or in the Arctic, all hunting whales,and now, Shenandoah was to be hunting them.
On the 22nd. of June, early that morning, two ships were reported by the lookouts, two prize crews were readied, Waddell intent in capturing them both simultaneously, one was hampered by having a whale lashed to her side, it was the 495 ton William Thompson, one crew was despatched in passing, whilst they went off after the second ship.
This was the 364 ton Euphrates, not bothered by the approaching steamer with the Russian flag in evidence, she was soon another victim to the Confederate Raider.
On returning to the William Thompson, her master Francis Smith, insisted the war was all over, but Waddell took this news as the Captain merely trying to save his ship, and torched the ship anyway, but unsure as to the real status of his Southern States.
Shenandoah was now really amongst the whaling fleet, she had eight ships in sight, all at once, and took the New Bedford 410 ton Milo, her Captain came aboard the Raider, and told Waddell the war was over, now this was the second time he had heard that story, and was beginning to perhaps believe it was all over. He asked for proof, but none was forthcoming, and he decided to bond the vessel for $46,000, plus he could rid himself of all prisoners.
Two other whalers with a freshening breeze rising, decided it was a good chance to move off, and they went in opposite directions, the first sought shelter in the ice, a
Civil War P 81.
two shots from the 32 pounder brought her scurrying out of the ice pack, it was the 426 ton Sophia Thornton, it was then Jireh Swift's turn, this 428 ton ship almost reached the safety of the Siberian coast, but the wind changed and she was taken, within 30 minutes she was ablaze.
Four ships to go, the first two were foreign, the other two chose the safety of the ice floes, and for now were free. Prisoners from Milo were sent off to Sophia Thornton, with orders to remove what was needed for a voyage to California, then to return to Milo, Sophia was now burned.
Waddell was still unable to obtain concrete evidence that the South had lost the Civil War, and was obviously loath to believe it had.
As the Sophia burned, with US colours flying, the ever busy Raider now pursued the 159 ton Susan Abigail, her Captain came on board Shenandoah to make a social call on a fellow US Captain, he was shocked to learn it was a Confederate ship, his story told that he believed the war over, he had heard the victory guns fire in San Francisco, he had read of Lincoln's assassination whilst in that city.
Still Waddell wanted actual proof of a Union victory, not just stories told by Union Captains, all of whom had an axe to grind in this regard. He was well aware that if the war was over, that he ran the risk of a subsequent charge of piracy, but still ordered the latest capture to be destroyed.
On the 25th. of June, the 419 ton General Williams was fired, the next day, William C. Nye had the same fate, next came Catherine, of 384 tons.
Now the 340 ton Nimrod was boarded, and Smith Lee was the boarding officer, the Captain of this ship, James Clark had been through this agony before, as master of Ocean Rover, the Alabama had captured him, and both the Union Captain, and the Southern Boarding officer knew each other. Clark was horrified to see Lee boarding his ship, realising his impending fate, and he did not have long to wait, the match was soon applied.
The Raider was stuffed with prisoners, some 200 of them, they were placed into 12 whale boats to be towed behind the Confederate ship, although it somewhat impeded her progress, off they went after the next victim. It made navigating the ice floes dangerous, slowed the ship considerably, and gave all the towed prisoners a perilous ride.
The General Price was captured, and bonded for $30,000, then a further two ships were taken, the 315 ton Isabella, and the 360 ton Gipsy. Both were burned, and now the ordeal of the towed prisoners ended, all were placed aboard General Price.
By the 28th. of June, A new Bedford whaler Waverly, becalmed, was an easy capture
Civil War P 82.
burning nicely.
Waddell continued into Bering Strait flying a Union flag, but still believing the South was forming a legitimate Government.
The whaler Brunswick, had run into an ice berg, and her Captain Potter was seeking another ship to take his oil cargo, in the area were another 10 whalers, and negotiations were in hand with the nearby Congress. Now two more ships drew near, Hillman and Martha, a fog had lowered visibility, on lifting the ships saw a black steamer slowly moving amongst them all.
Potter in his whale boat came to seek assistence from Shenandoah, to be told the ship was presently busy, but would attend to them soon, he returned hopefully to his ship, unaware that this black steamer was preparing five prize crews to grab the lot of these ships.
There is a rather bizarre twist to the capture of the whaler James Maury, when at Ponape:
Waddell had heard that her master S.L.Gray had died, his wife and three children were sailing with him. Mrs Gray had arranged that her husband's body be preserved in a cask of whiskey, so she could take him home for a proper burial.
Remembering this story, Waddell instructed his boarding officer Lieutenant Chew, to assure Mrs Gray that both she and the ship would be spared, after the First Mate Cunningham signed a ransom bond for $37,000, the ship was filled with prisoners and released.
Shenandoah proceeded slowly through the whaling fleet, removing any thing of value, then burning, burning, burning.
The bark Favorite, the 399 ton, Isaac Howland, Covington of 350 tons hailing from Baltimore, Martha and Hillman skippered by the Macomber brothers, Nassau, a forty year old ship all torched, and Master Daniel Wood saw his third command Congress destroyed. An old bark Nile, who had known 11 masters over a mixed two years of operations was used to take the remaining prisoners to safety.
On the 29th. of June, Waddell took his ship through Bering Strait, on his port hand was Siberia, and Alaska was in sight to starboard as he sailed into the Arctic Ocean.
He had heard a story that only 10 days earlier, 60 vessels had headed this way, and he was looking for them, but an impassable ice field blocked the way, he was afraid of being locked into the Arctic Ocean, and decided to retrace his steps, three ships he had released, were on their way to California, they would report his activities, it was time to gain the freedom of the open sea.
Civil War P 83.
Since the ship had left Melbourne on the 18th. of February, 29 vessels had been captured, another 3 bonded for $124,600, and the 4 at Ponape were valued at $117,759. The 21 of the total taken had a value of $843,028, a busy time for the Raider. But, unknown to Waddell, other than the 4 ships destroyed at Ponape, all other vessels had in fact been captured after the fall of the Southern States.
When Milo reached the US on the 20th. of July the news of Shenandoah's rampage was reported to Secretary Welles by Captain David Mc Dougal, who commanded the Navy Yard at Mare Island on the west coast of the United States. For some unexplained reason, this message did not reach the Secretary's desk until the 18th. of August.
McDougal followed up with a second letter to his Secretary of the Navy:
"Great apprehensions felt by mercantile community of San Francisco in consequence of depredations of Shenandoah. Merchant ship owners and underwriters have addressed memorial requesting me to telegraph department for authority to charter, arm and man steamer Colorado of Pacific Mail Company to pursue that vessel."
There was no response from Washington, now General Pike arrived with a further group of prisoners, the local paper Alta California headlined its attack on the government, claiming apathy, and called for private initiatives to fit out ships with an armament at least equal to the Raider: " To get out there, find her, and destroy this ship Shenandoah."
Now on the 2nd. of August came the dreaded news, Irvine Bulloch had boarded the British bark, Barracouta, and returned, armed with a stack of recent newspapers,
Lee and Johnson had surrendered, former Southern President, Jefferson Davis imprisoned, the armies defeated, and the world's navies out on the hunt for the rebel ship Shenandoah. At last: THE WAR WAS OVER.
The ship's log now carried this entry:
" Having received.... the sad intelligence of the overthrow of the Confederate Government, all attempts to destroy shipping or property of the United States will cease from this date, in accordance with the first lieutenant William C. Whittle, Jr; received the order from the commander to strike below the battery and disarm the ship and crew."
Waddell now consulted his officers on their views on what to do with the ship?
Here they were, stateless, deemed to have operated as a pirate, thousands of miles away from the US, a cruiser without a country, on the 3rd. of August the Captain decided that Sydney, Australia would be their destination, and he set a course accordingly. But by sunset, he had changed his mind, most of the crew had lived at Liverpool,
Civil War P 84.
and there seemed little point in making for Australia.
Amid much discussion, CapeTown, New Zealand, any nearby British port were all canvassed, Waddell set off for Cape Horn, once into the Atlantic, the crew would anticipate Cape Town as the target, and he could head for Great Britain.
But the crew were clamouring for their Captain to give them a firm commitment, he then addressed this problem, indicating that he would take the ship into the "Nearest British port."
But after several weeks sailing, the crew were muttering amongst themselves, just what did the Captain mean by the " Nearest British port."
Europe was a long 17,000 miles away, with many hurdles to jump before achieving that aim.
Cape Horn was rounded, with the crew becoming more surly by the day, and by the 26th. of September it was evident that the next 24 hours would reveal Waddell's intentions, if the ship turned eastwards, it would be Cape Town, but if the course ordered was northwards, it must be Europe, and so it proved.
The equator was crossed, and some two weeks later, on the 25th. of October, a steamer was reported, it had the cut of a man-of-war, after the sun had set, Waddell used his engines, by luck having a supply of smokeless Cardiff coal, it burned without leaving a trail of tell tale smoke, he steamed east for 15 miles before turning north again, the warship had been shaken off.
Since leaving the Aleutians over the ensuing 122 days, over 23,000 miles had been covered. As a thick fog lifted on the 5th. of November, the bright green hills of Ireland were a wonderful sight to a tired and fretful crew, the Pilot Boat asked "Which Ship?" and Whittle responded with " The late Confederate steamer Shenandoah."
The somewhat suprised Pilot returned with: The hell you say, I was reading but a few days ago of her being in the Arctic Ocean."
On the 6th. of November 1865, the ship steamed up the Mersey River, flying the Confederate Flag, and anchored close by a British ship of the line, Donegal, commanded by Captain Paynter Royal Navy.
Waddell now penned a quite lengthy letter to Lord Russell, surrendering his ship to the British Government, explaining it had taken a long time for him to discover the Civil War had ended, he requested that his ship be turned over to the United States.
Since 1863, Britain had begun to reverse her policy of giving naval aid to the South,
Civil War P 85.
she had achieved their objective of taking over maritime commerce supremacy from the United States, and now sought an International law that would prevent neutrals from building navies for any foreign nations at war. Having got what she wanted, Britain was prepared to turn all moralistic, and wanted to change the rules.
But the US Minister was not going to forget the past, he wanted damages for all the damage done by Alabama, and the other main Southern raiders.
Crown Law officers side stepped the damages claim, but issued orders that Shenandoah should be turned over to the US, and the crew released with the exception of any of those British subjects who had violated the Foreign Enlistment Act, when asked for a list of British subjects, Waddell indicated he had not paid much attention to nationalities on enlisting his crew, but he thought they were mainly American. No sailor admitted to British nationality, and Captain Paynter released the entire crew.
To review Shenandoah's achievements, she sailed/steamed 58,000 miles over a short 13 months, and destroyed 32 ships, losing but 2 men to natural causes, the rather tentative Captain Waddell had, in fact, performed very well.
He remained in England until 1890, returning to the States, he became a Captain in the British owned Pacific Mail Line, running between San Francisco, Australia and Japan, he unfortunately stranded a command on an uncharted rock off Mexico.
When he died on the 15th. of March in 1886, the Maryland State Legislature adjourned in his honour.
Shenandoah attempted to sail to the States on the 21st. of November, but fierce storms forced her to return to Liverpool on the 6th. of December. She languished for several months there, until the Sultan of Zanzibar bought her to act as his personal yacht, later she went back to the tea trade until in 1879, in the Indian Ocean a storm cast her upon a coral reef ripping open her hull, and the once proud Southern Raider was finished, a sad end to a distinguished career, albeit much of her success taken after the Civil War had officially ended.
We have already noted that the final chapter to close the American Civil War, resulted in the Alabama Claims, on the 14th. of September 1872, the tribunal hearing the US claims against Britain voted 4 to 1 in favour of the United States, and awarded her $15,500,000.
At long last, an incredible story covering 8 Confederate Armed Merchant Raiders is at an end, the back cover of this book may now be closed for the last time.

back to Confederate Merchant Raiders index