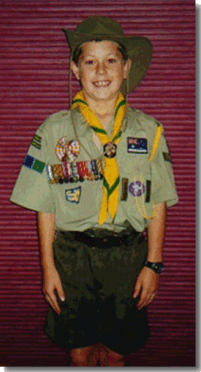 Each year on the 25th. of April, around Australia, the first landing of the Australian and New Zealand Army Corpís at Anzac Cove at Gallipoli in Turkey, is commemorated with marches of ex servicemen and women, and a short service in cities and country towns across the length and breadth of the nation. In the capital city of each State and Territory, a major march with bands scattered throughout the marchers takes place. Old mates meet again, and many a story will be embellished by the fact of its retelling, those who served and died on active service, or have since died, will be fondly remembered.
On April 25th. this year, Edward Richards aged 11, and a member of Chatswood Cub Pack, was loaned my Miniature Medals to wear on this occasion. Edward is one of my wife Deniseís grandsons, a most enthusiastic young man who gives just everything to whatever it is he is engaged in at the time. He needed on this Anzac Day, to be ready at 5 AM, much to the chagrin of his Dad, Dale, who needed to drive him to the ceremony, so that Edward might take his place in his Scout and Cub group who were joining in the march at the Chatswood remembrance of this important day in Australiaís calendar.
Once again, as a younger member of the community, Edward and his friends paid tribute to the original ANZACS who fought for freedom on that distant foreign shore so long ago, that we may still continue to enjoy democracy so many years later.
Here is a photograph of Edward proudly wearing my Miniature Medals, it is a convention, that when the Medals belonging to another person are worn, they are worn on the right hand side, and not on the left side as the recipient would wear them. I believe it was something of a struggle to get Edward to take these medals off, once the ceremony was all over.
Another Anzac Day has come and gone, but I am sure Edward will recall this one as a little bit special for him.
(You can learn more about Anzac here.)