Introduction
Between the 27th. of May 1768 and the 12th. of July 1771, Captain James Cook circumnavigated New Zealand and charted the east coast of Australia.
In his journal, Cook records landing at and naming Botany Bay and Endeavour River, the claiming of the east coast of Australia for England, and his encounters with the Aboriginal people.
Endeavour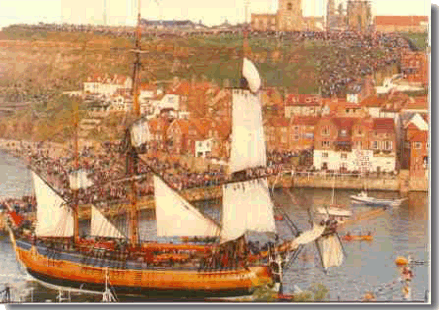 My tenure as Aide-de-Camp to His Excellency the Governor General of Australia
During my appointment as ADC to the Australian Governor General, Sir William McKell, over 1950/1953, His Excellency accepted an invitation to attend the 181st. anniversary of Captain James Cook landing at Botany Bay in 1770.
Midshipman Isaac Smith's Snuff Box
With Cook in the Endeavour, was the nephew of Cook's wife Elizabeth, Midshipman Isaac Smith.
An Australian living in South Africa, had come across Smith's snuff box, he had purchased this box, and forwarded it to the Governor General for presentation to the Kurnell Trust on an appropriate occasion.
The Vice Regal attendance for this anniversary of Captain Cook's landing at Botany Bay in 1770, was deemed to be the time for Smith's snuff box to be presented.
I was given custody of this treasure, with an order from His Excellency: "Commander, when we visit Botany Bay, and I give my speech, there will be a spot for me to present Isaac Smith's Snuff Box to the Chairman of the Kurnell Trust. It will be your task to produce the box and hand it to me, now, do not lose it, and do not forget to conjure it up at the very right moment." No Your Excellency, was of course my response!
Engraving around the edge of Isaac Smith's Snuff Box
Around the circumference of this snuff box was an engraved message, it read:
Midshipman Isaac Smith, to whom Cook said " You go first."
This alluded to the story, that when the ship's boat ran up on the beach at Botany Bay, with Elizabeth Cook's nephew, Midshipman Isaac Smith in her bows, Captain James Cook told him to jump ashore first, thus a humble Midshipman, was in fact, the first white man to set foot upon the this new continent in the southern hemisphere.
Cook's Original Journal held at Australia's National Library Canberra
Cook's Journal had been held within the library of the Bolckow family of Yorkshire for over 50 years, when it had been purchased by the late Mr Bolckow's uncle, it had been learned that this Journal and other papers had been passed by Elizabeth, Captain Cook's wife, to other family members. They in turn had sold them at auction to the Bolckows.
On the 21st. of March 1923, the Australian Government acquired this Journal for 5000 Pounds, to be held at the National Library of Australia on "behalf of the nation."
My visit to the National Library to view Cook's Journal
I had long harboured the wish to actually hold this national treasure in my hands, turn the pages to come across the entry of the 29th. of April back in 17770, when Captain James Cook first entered the Bay which he eventually named Botany Bay, and anchored his ship Endeavour.
I telephoned the Commonwealth Librarian at our National Library, identified myself, and told him that
"His Excellency would be pleased if Captain Cook's Journal could be made available for me to view, as he was visiting Botany Bay for the next anniversary of this landing, and wanted something special to add in his speech."
Of course the Librarian agreed to this request, and I went off excitedly to the National Library to view this wonderful Journal.
Entry for Sunday the 29th. of April 1770
On this day Cook's entry reads:
In the PM winds southerly clear weather with which we stood into the bay and anchored under the south shore about 2 mile within the entrance in 6 fathoms of water, the south point bearing SE and the north point East.
This was at Kurnell (native Kundel) the S or SW head Cook called on his chart Port Solander, the N or NE one Cape Banks.
Saw as we came in on both points of the bay. Several of the natives and a few hutts, to which place I went in the boats in hopes of speaking with them accompanied by Mr Banks, Dr Solander and Tupia as we approached the shore they all made off except two men who seem'd resolved to oppose our landing. As soon as I saw this I ordered the boats to lay on their oars in order to speak to them but this was to little purpose for neither us nor Tupia could understand one word they said.

We threw them some nails beeds and came ashore which they took up and seem'd not ill pleased in so much that I thout that they becon'd us to come ashore, but in this we were mistaken, for as soon as we put the boat in they again came to oppose us upon which I fired a musket between the two which had no effect than to make them retire back where bundles of darts lay , and one of them took up a stone and threw at us which caused my fireing a second Musquet load with small shott, and altho some of the shott struck the man yetb it had no other effect than to make him lay hold of a shield or target to defend himself.

Emmidiately after this we landed.....
Entry for Sunday 6th. of May.
In the evening the yawl returned from fishing having caught two stingrays weighing nearly 600 pounds.

The great quantity of huge stingrays found in this place occasioned me in giving the name of Stingrays Harbour....

(This is crossed out by Cook in his Journal, his next try was Botanist Harbour, but this also is crossed out, then Botanist Bay was given a run, but it too was erased, finally Botany Bay was used, and this name survived, to be still used today.)
Captain James Cook's Journal in my hands
I called at the National Library, and with great deference was handed Cook's precious Journal to peruse.
What a thrill, as I turned to the entry for the 29th. of April 1770 to read about Endeavour's entry into the Bay and the landing at Kurnell.
Then on the entry for the 6th. of May where on his fourth attempt Cook named his entry point Botany Bay.
I tried to put myself in Cook's shoes and into his mind, what might he have thought about as he penned those words? Already he had been away from home a long time, and both he and his crew faced a long and arduous voyage home. Little could he have guessed what a wonderful nation he founded on that first day he went ashore and claimed this land for Britain.
Isaac Smith becomes an Admiral
Our Midshipman of 1770, went on to become an Admiral in the Royal Navy, and it is reported that both Elizabeth Cook and Admiral Isaac Smith were fond of telling their young friends how Cook on the point of stepping ashore said "Isaac, you shall land first."
There seems little reason to doubt the this tradition they installed.
HMAS Barcoo. HMAS Culgoa was one of this class of River Frigates in the RAN
HMAS Culgoa
It seemed to me, that it would be appropriate for the Governor General and his party to emulate Captain Cook and arrive at Botany Bay, Kurnell by ship.
To this end, I telephoned the Flag Officer Commanding the Australian Fleet, and indicated to him that as His Excellency, under our Constitution, was the Commander in Chief, the GG wondered which of his Naval Ships might be available to transport him, and his party to Botany Bay, for the 181st. Anniversary of Captain James Cook landing there.
The Admiral thought for a moment, and responded: The frigate, HMAS Culgoa.
I thanked him, and now had the task of selling my idea to His Excellency, but not in just those terms.
My approach was:"Your Excellency, for your visit to Botany Bay, the Admiral Commanding your Australian Fleet has offered to provide your Ship, HMAS Culgoa to transport you there. What are your wishes Sir?" My ship HMAS Culgoa! the Governor General says, "Oh yes Sir, you are the Commander in Chief, and I think it might seem churlish if you did not accept this offer." The day was won without any further ado, I tell Sir William that I will ensure Her Excellency, and their daughter Betty, would take some anti- seasick pills before we sailed, and all should be well.
The actual visit to Botany Bay
On the day in question, we embarked in HMAS Culgoa, the Governor General's Standard was broken at the masthead, we steamed down Sydney Harbour through the Heads into the Pacific, and turned South for Botany Bay. It was good to be at sea again, it all just took some special thought and planning.
This visit went off very nicely, His Excellency related how Cook had only on his fourth attempt, named Botany Bay, my rabbit out of the hat, the snuff box came to light at the right moment, and was received with enthusiasm. A great day indeed!
This Journal is available as a CD-ROM ISBN. 0642 10692 4
It was jointly published by the National Library of Australia, and The Australian Maritime Museum at Darling Harbour in Sydney.
It is a wonderful work, on one side of a page is the Journal in Cook's hand, and on the other side is the transcript of that specific page.
For anyone interested in further exploring Cook's voyages, his ship Endeavour, and his discovery of the East Coast of Australia, I thoroughly recommend this CD-ROM.
See this painting of Captain Cook landing at Botany Bay.