In the gardens surrounding the Australian War Memorial, situated in our National Capital, Canberra, are a number of brass plaques that record the history of a number of the Royal Australian Navy's war time warships.
Amongst them, sitting at the base of a growing tree, is one to mark the County Class Cruiser, HMAS Shropshire. This 8 inch gun heavy cruiser was a gift from the Royal Navy to the Government of Australia in 1942. At the initiative of the British Prime Minister, Winston Churchill, this ship was given to the Royal Australian Navy to take the place of a sister ship, HMAS Canberra, which had been sunk at the Battle of Savo Island, in the Solomon's region.
On August 9th. 1942, a Japanese surface force led by Vice Admiral Mikawa, made up of 4 heavy Cruisers, 3 light Cruisers and 1 Destroyer swept around Savo Island at 0143 (1.43 AM), mortally wounded Canberra with a hail of 8 inch shells fired from close range, and damaged USS Chicago, an 8 inch Cruiser with a torpedo hit in her bows. This unit split in two, and quickly sank three US heavy Cruisers, Quincy, Astoria, and Vincennes, killing almost 1,000 US sailors, Mikawa then withdrew.
The landing ships some distance away off Guadalcanal were still unloading vital supplies for the US Marines that had invaded on the 7th of August. They were not attacked, and although Mikawa had scored a stunning victory, he was later criticised for not going after the transports to finish off the night's devastation.
In Canberra, we had suffered 84 dead, including our Captain Frank Getting RAN, and another 110 were wounded.
As a Sub Lieutenant, I had been the Officer of the Watch on her bridge when this battle commenced, but I had survived uninjured. Many of Canberra's survivors were to man Shropshire, and I was amongst those to crew this replacement. Shropshire had a distinguished career in the Pacific, and did not lose a man to enemy action. She was present in Tokyo Bay when the Japanese surrender was signed onboard the mighty US Battleship Missouri on the 2nd. of September 1945. Probably some 2,000 Officers and Sailors served in Shropshire, and this plaque records for posterity, their service and that of their gallant ship.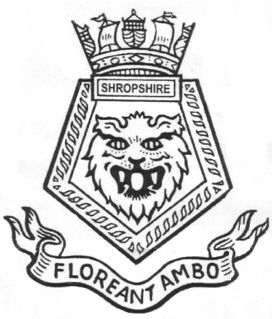 In memory of
Heavy Cruiser HMAS Shropshire
Pacific Area 1943-45
During its service in the Pacific, HMAS Shropshire supported 15 landings and carried out 56 bombardments; destroyed nine shore batteries and 19 attacking aircraft; relayed over 90% of air attack radar warnings to the US 7th fleet during the liberation of the Philippines; and engaged a Japanese battleship at the Surigao Strait.
Six members of the Shropshire's crew died on active service.
Lest we forget