The Ran Badge
1942 - The Year That Was.
The Victorian Chapter of The Naval Historical Society of Australia Inc. is remembering the year of 1942 with a photographic display.
For Australia, 1942 was a horrendous year, Singapore fell on the 15th. of F ebruary, trapping thousands of our soldiers there, and forcing them into captivity under the Japanese, they were forced to work on the infamous Burma railway, and many did not survive.
War came to our mainland with the air attack on Darwin on the 19th. of February, ships were sunk in the harbour and people were killed ashore.
Seven ships of the Royal Australian Navy were lost over the year, HMA Ships Perth, Yarra, Vampire, Nestor, Canberra, Voyager, and Armidale were sunk, with much loss of life.
USS Lexington at the Battle of the Coral Sea. May 1942. The fires are out of control, and the crew were ordered to abandon ship.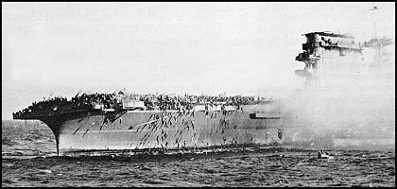 May and June, saw the Battles of the Coral Sea and Midway fought, the former put paid to any Japanese invasion of Australia, the latter, a victory for US sea borne aircraft, and perhaps the turn of the tide for the Allies in the Pacific.

The last day of May found Sydney Harbour under attack from three Midget Japanese Submarines that penetrated into the harbour, two were sunk, the third escaped never to be found. The accommodation ferry HMAS Kuttabul was destroyed alongside Garden Island by a torpedo from one of the midgets, 21 sailors were killed.

Japanese aircraft attack with torpedoes at Guadalcanal 8th. of August 1942.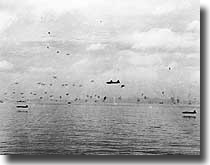 In August, US Marines landed at Guadalcanal, at the Battle of Savo Island on the night of the 9th. of August, the heavy cruiser HMAS Canberra was sunk, 84 died, 109 were wounded, also sunk, were the US heavy heavy cruisers, Vincennes, Astoria, and Quincy, 1,000 US naval personnel died that night.

With some financial help from the Department of Veteran Affairs, the photographic collection of the Australian War Memorial has been scanned on line, by computer 160 have been selected and copies purchased.

These, have in turn been mounted on display cards, and suitably captioned, all the mounted photos will displayed on 20 display panels.

The display will be shown at HMAS Cerberus, the RAN's main training depot for Australia, at Crib Point Victoria, during Navy Week, on Sunday the 27th. of October. It will be mounted there, at Club Cerberus.

The display will then move to the Prahran Town Hall, Chapel Street Prahran, and be open to the public daily from 10 AM. to 8 PM on Monday the 28th. of October to Friday the 1st. of November 2002. A gold coin will gain admission.

We expect a senior Naval Officer in Victoria will declare the Exhibition officially open at 6.30 PM. on Monday evening.

All Victorian schools have been invited to view this historic exhibition, and no donation is necessary for school children, one of our main aims is to raise the awareness of the younger generation to our historic past, and the struggle Australia endured in those tough years of WW2, and in particular, the significance of all the events that happened 60 years ago, in 1942, in that year that was.

Veterans who took part in the war in 1942, will be on hand during the exhibition, and using a roving microphone, will be able to guide school groups around the photographic panels, explaining just what it was like to have been part of a particular event back in 1942.

I must acknowledge that the Stonnington Council have allowed our group to mount this exhibition in their Town Hall over five full days without cost, we are indeed grateful for this wonderful gesture, thank you to all involved.

On Tuesday last, I met with a journalist from the Leader Group who produce the local paper, and was interviewed and photographed, in an attempt to gain publicity for this important event, the particular issue will come out on Monday, the day we open.

The Victorian Chapter has organised this exhibition as the one of the major events for Navy Week in Melbourne in 2002.

A few dedicated members picked up the challenge posed by our Treasurer, George Bird, and have toiled mightily to bring this project to fruition, of course George being amongst that crew.

We are ready, I trust we gain the interest and support that is deserved.

Here is the newspaper article about the show: