Lieutenant James Cook, later Captain, discovered Australia East Coast 1770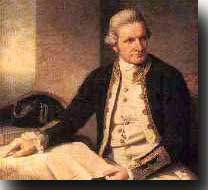 Introduction.
It is a matter of history that Captain James Cook landed at Botany Bay on the 28th. of April in 1770.
It was at 0600 ( 6 AM. ) that morning, that the opening to Botany Bay was sighted from his ship Endeavour, the pinnace was despatched to sound the entrance, after which the ship worked into the bay, and, at 1330 ( 1.30 PM. ) anchored with the Best Bower in 6.5 fathoms ( 39 feet ) of water, on sandy ground.
At 1500 ( 3 PM. ) two boats were manned, and Cook, in company with Banks, and Doctor Solander left the ship's side for the shore, eventually landing at Kurnell, Botany Bay.
Onwards to 1951.
In 1951, as a Lieutenant RAN. I was aide-de-camp to His Excellency the Governor General of Australia, located at Government House Canberra, and the G.G. was scheduled to attend the 181st. anniversary of Cook's landing at Botany Bay.
Painting of HMS Endeavour, Captain Cook's vessel in which he entered Botany Bay, 1770
For this proposed visit, I was at the National Library undertaking some research, and I approached the National Libarian with the following:
"His Excellency would be most grateful if Captain Cook's original journal might be made available to me to study."
That ploy worked and the journal was made available. What a thrill to hold it!
I found it quite fascinating to learn that Cook only decided on the name of Botany Bay at his fourth attempt to name this place where he had first landed in 1770.
He started with Stingray Harbour, for obvious reasons, namely the large number of quite huge stingrays he found present in the bay, that is crossed out, then came Botanical Bay, to be likewise discarded, the next try, Botanist Bay, that too, did not get final approval, and it was the 4th. try that was finally decided upon, Botany Bay.
Thus, with the discovery of Australia, the arrival and landing to establish the first European settlement on this continent, all colonists, both convict, and free settlers, were very aware of their dependence upon the sea.
Early Colonial Times.
In those very early days of the new Colony, a constant watch was kept for any sign of a sail, which meant a ship, or ships imminent arrival, and perhaps some relief of want.
Captain Watkin Tench, Royal Marine, on the departure of the First Fleet from Port Jackson in July 1788, summed up this fact, and I quote:
"It was impossible to behold without emotion, the departure of these ships. On their speedy arrival in England perhaps hinged our fate, the dread of want in a country destitute of natural resources is ever peculiarly terrible, we had long turned our eyes with impatience to the sea."
From the very start of white settlement in Australia, the defence of the Colony rested with the Royal Navy, and it was to Captain Arthur Phillip, a Naval Officer, that command of this new Colony was given.
Other Nations interested in this area.
The French were active on our East coast in those early days, and two Spanish Corvettes visited Port Jackson in 1793.
French Navigator Nicolas Baudin, visited Port Jackson 1802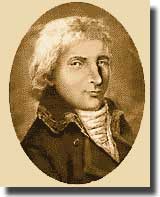 In 1802, the French were again around, with Nicholas Baudin in command of Le Geographe and Le Naturaliste, arriving at Port Jackson, and in the following year, war again broke out between England and France.

Nelson's victory at Trafalgar in 1805, and the British capture of the Cape of Good Hope the following year, assured the safety of the Colonists in their new and threatening environment.

In 1810, Napoleon ordered General Decaen to support an expedition to take Port Jackson, but this was forestalled when Mauritius fell into British hands instead.

New Faces on our Doorstep.
New faces appeared in the Pacific, and for the next 30 years posed a potential threat.

The Russians.
The armed store ship Neva, visited in June 1807, the armed Freighter, Suvorov, in August 1814, her arrival necessitated an extraordinary edition of the Sydney Gazette, as she brought:
"Intelligence of the highest and most important nature, regarding the great series of victories which had attended His Majesty's arms over Napoleon."
Of course this refers to the 1812 retreat from Moscow, and the defeat of Napoleon.
Contrast the time communications from Europe then took, to reach this outpost of Empire, with our modern methods of instant communications, particularly, I recall CNN, and its instant coverage of the Gulf War, and then of the terrorist attacks of September 11, 2001, and only last month in Bali on October 12.
The French frigate Uranie, called in 1819, now no hint of recent hostilities, the Sydney Gazette, was lyrical concerning the beauty, modesty, and simplicity of the young women of Sydney, who, as Debutantes, attended the several balls held during this ship's visit.
Four Russian ships came in 1820, part of a dual Arctic/Antarctic expedition, and Macquarie gave them permission to refit in Sydney. They established probably the first Sauna in Australia, a Russian Bath House, for the relief of sea scoured Sailors, who had been under sail in excess of 450 days!
The next decade found Sydney becoming a regular port of call for both French and Russian ships.
In 1826, France was actively seeking new destinations for her expanding prison population, and Governor Darling seeking to preempt any French moves, sent off Major Lockyer with a detachment of troops to establish a British presence at King George Sound in December 1826.
A year later, he was followed up by Captain James Stirling R.N. who strongly recommended to London that they take steps to secure the Swan River area for Britain, thus, in May of 1829, Captain James Fremantle in HMS Challenger, took possession of New Holland, not included in New South Wales.
Again, it was British Naval Officers playing a significent role in our early history.
American Squadron

Photo of Fort Denison or Pinch Gut in the foreground of Sydney Harbour, built when Russian invasion was a threat in the 1840's
under Commodore Perry arrives unannounced.
In 1839, the unannounced arrival of an American Squadron under Commodore Perry, caused W.C. Wentworth's Australian, actually the first Australian newspaper with an outlook independent of Imperial views to observe:
"Much progress has been made 40 years after the first landing at Port Jackson, at Hobart, Port Phillip, and now in the West, but in muted terms, vague fears as to safety are being expressed.

"HMS Rattlesnake of 28 guns, under the command of Captain Hobson RN. we are grateful to learn, is to remain on this station until relieved by another ship from the East Indies Squadron. A permanent man-of-war of respectable force has long been needed. This US Squadron which entered during the night, without a Pilot, or any knowledge on the part of the local authorities, brought to an end, the 'Age of innocence' of the Australian Colony in matters of defence."
Sydney Harbour Fortifications.
Work to fortify Pinch Gut Island located within Sydney Harbour was initiated in 1841, but lack of further alarms removed the urgency, and construction ceased several years later, not to be reviewed for another decade.
Royal Navy ships leave to fight wars.
Royal Navy ships based in Australia, went off to fight in the 1st. Maori War over 1843 - 1947, and then to Southern China during the so called Opium War. But the first half of this century passed by, and the Colonists enjoyed peace.
Victoria a separate State.
On the 1st. of July 1851, Victoria became a separate State from New South Wales.
Discovery of Gold.
Gold in great quantity was discovered in both Victoria and New South Wales, and the Colonists feared the attention their new founnd wealth might attract.
In the Crimea in 1854, England and France now Allies, were at war with the Great Bear Russia, and a cruise of a Russian Squadron in the Pacific set local Editors alight, and dire warnings of Ivan's intentions poured forth in their editorials.
Any news of the Crimea only reached Australia via the slow Mail Ships, and up to date news was totally non existent.
The steamer Great Britain arrived off the entrance to Port Phillip carrying cases of smallpox on the 18th. of August 1854, and was quarantined until the 7th. of September, when she was able to steam to Port Melbourne and anchored at 2100 ( 9 PM. ) In a burst of exuberancce, to celebrate his release from quarantine, her Captain ordered the firing of her saluting gun, and the release of rockets, other ships crowded in the harbour, all followed suit, chaos then ensued.
I quote from the Melbourne Morning Herald, edition of the following morning:
"The locals pressed the Governor, Sir Charles Hotham for a Colonial controlled Naval Defence System. The Victorian Legislature passed legislation to provide money and a contract for the first vessel of war built to the order of a British Colony."
Thus, a Capain released from the dire restrictions of an enforced period of quarantine through his ship having smallpox cases on board, resulted in the State of Victoria acquiring her first Naval Ship available to defend their shores, an irony indeed!
The ship Victoria, was built in the Limehouse yards of Youngson and Magnay, at a cost of 38,000 Pounds. She was launched on the 30th. of June 1855, and under Commander W. Norman, arrived on station in Port Phillip Bay on the 31st. of May 1856.
Although but a modest vessel of 580 tons, with both sail and steam, she served with distinction during the 2nd. Maori War, when her crew members became the first Australian Naval Unit to see action.
In 1855, New South Wales launched its first war ship, Spitfire, of only 60 tons, mounting just one 32 pounder gun, but, it was a start.
Royal Commission.
In New South Wales, a Royal Commission appointed to look into defence of the Colony, actually named Russia, as a potential aggressor.
Also in this same year, Sir Henry Young, the Governor of Tasmania , wrote to the Colonial Secretary in London, urging him to make the Australian Colonies, an Admiral's Station, and to maintain in Australian waters, a Naval Squadron, at least equal to that of any other power.
The Admiralty acts.
Their Lordships at the Admiralty did act on this request, and ordered two additional ships of war to proceed from China to join the Senior Naval Officer in Australia. They also indicated that Captain Loring in HMS Iris, of 26 guns, had been ordered to hoist a Blue Pennant, and assume command as Senior Officer of H.M. Ships on the Australian Station.
As a Commodore, Loring was granted an extra 0ne Pound a day, as an addition to his pay, and his Squadron consisted of: Iris, sail and 26 guns, Pelorus, screw and 21 guns, Cordelia, screw and 11 guns, Niger, screw and 14 guns, and Elk, sail and 12 guns.
This establishment of the Australian Station was indeed a landmark in the devolopment of Defence in Australia, and marked a new coming of age in that regard.
Visit of Russian Frigate.
In 1862, the Russian Frigate Svetlana, of 2,000 tons, and mounting 40 guns entered the waters of Hobson's Bay, and lay unnoticed and unrecognised for 12 hours, this vessel compared unfavourably with HMS Pelorus, the flagship on the Australian Station. It appeared that we could not return any gun salute by the Russian, as our batteries had no ammunition available, and the Russian was so informed.
Next year, the Russian 17 gun Corvette Bogatyr, also visited Melbourne, for rest and recreation, again our batteries lay silent in salute.
The Colonial Naval Defence Act.
In London in 1865, the Colonial Naval Defence Act was passed, this enabled the Colonies to provide, maintain, and use their vessels of war under conditions and for such purposes as Her Majesty in Council approves.
Led by Victoria, always the leader of Australian Naval Development, South Australia, Queensland, and New South Wales all took steps to provide for their own Naval Defence Forces.
Victoria acquired Naval vessels, a gun raft, mounting a 68 pounder in 1865, the reduced 120 gun ship of the line Nelson in 1868, but merely for training purposes.
HMVS Nelson, an early acquision for the Victorian Navy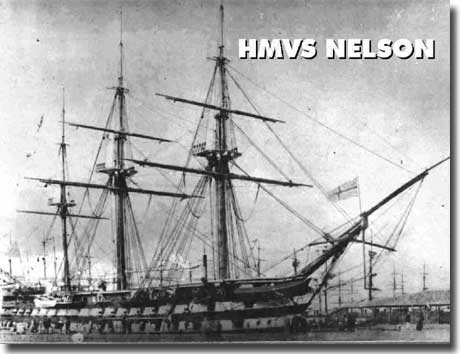 The Victorian Defence Department, placed a contract with a British ship yard for an armour plated Monitor, or Turret Ship, at a cost of quite considerable proportions for those times, of 125,000 Pounds.

Victoria was to pay 1/5th. of the capital cost, but the cost of her armament, maintenance, manning, and command was to become the Colony's responsibility.

This vessel was Cerberus, the three headed dog which guarded the Gates of Hell.

She was not a successful ship, was not at all handy at sea, during her delivery voyage from England, plagued by gales, her Captain, Lieutenant Panter RN. reported that she rolled: To quite 45 degrees, and sailed like a half tide rock.

With Federation in 1901, the Federal Government assumed control of Cerberus, she saw service as a Guard Ship in WW1.

Cerberus after many years of service in Port Phillip Bay was eventually scrapped, and finished up as a breakwater at Blackrock, a Melbourne bayside suburb, here, she has slowly rusted away. There have been several attempts to mount campaigns to preserve this old ship, the last Monitor of her type anywhere in the world, all have failed.

But, right now, there is a feasibility study in progress by Victorian Heritage and the local Bayside Council that owns the wreck, to see if indeed it is not too late to save her for posterity, and it is my personal hope, that we may at last see action which will result in Cerberus being saved.

The Nelson also lasted well, finally sold out of service in 1891, she served as a barge on the Derwent River in Tasmania, until finally broken up in 1929, at the age of 124. Part of her old rudder in on display at a Maritime Museum at Hobart.

The Victorian Government continued to acquire Naval ships, Albert, of 370 tons, and the Torpedo Boat Childers, followed by 2nd. Class Torpedo Boats, Lonsdale, and Nepean, these were supported by two Armed Steamers, Lion, and Spray, plus three Harbour Trust Steamers, Gannet, Fawkner, and Batman, each mounting a 6 inch gun.

Just prior to the 1890's financial depression, the 1st. Class Torpedo Boat Countess of Hopetoun came into service, and Victoria had gathered together a formidible flotilla.

South Australia provided a war vessel to protect shipping and ports in St. Vincent and Spencer Gulfs, Protector, although only of 900 tons, mounted an awesome armament, one by 8 inch gun, five by 6 inch breech loading guns, plus four Hotchkiss machine guns, and under Captain William Creswell, she played a part in the Boxer Rebellion in China.

In 1884, Queensland acquired two Gunboats, Gayundah, and Paluma, both of 360 tons, for their size they were formidible, one by 8 inch breech loader in the bow, and one by 6 inch gun aft. They were supported by the 2nd,.Class Torpedo Boat Mosquito, and the Piquet Boat, Midge.

Essentially New South Wales relied on the ever present Imperial Squadron, but in 1885 bought two 2nd. Class Torpedo Boats, Acheron and Avernus, which were finally taken over at Federation of the States by the Commonwealth of Australia.

Both Western Australia and Tasmania did not acquire any Naval Forces, except in Tasmania's case, a 2nd. Class Torpedo Boat saw brief service on the Derwent.

Upgrading the Australian Station to an Admiral's Command.
In 1884, the Australian Station was upgraded to an Admiral's command, with Rear Admiral George Tyron, being the first appointee.

By agreement between the British and the Governments of the States of Australia, The Australian Defence Act, was born, receiving assent in 1887. The Admiralty was to provide five fast Cruisers of 2,750 tons displacement, and two Torpedo Gun Boats of the most modern build, each of 750 tons.

These were to protect floating trade in Australian waters, and secure ports and coaling stations.

All ships to be provided by the British Government, with the Colonies paying 5% interest on the prime cost, but not to exceed 35,000 Pounds annually.

The Colonies were also to bear the cost of maintenance, including Pensions to retired Officers and Seamen, with the annual cost not to exceed 91,000 Pounds.

These ships were to be named The Australian Auxiliary Squadron, under the command of C-in-C Australian Station.

There was a sunset clause included, which terminated this agreement within 10 years of its ratification, but Queensland dragged their feet, and the agreement did not take effect until the 1st. of April in 1891.

The Writing of Australian Naval History.
Australian Naval History was made, when, The Auxiliary Squadron, sailed into Sydney Harbour on the 5th. of September 1891, comprising: Mildura, Wallaroo, Ringarooma, Katoomba, and Thuranga, all 3rd. Class Cruisers, plus the Torpedo Boats, Karrakatta, and Boomerang.

The Admiralty naming Committee obviously enjoying their task.

Emergence of a Domestic Naval Capability.
Two advocates of a domestic Naval capability, emerged in the 1890's, Commander Robert Collins, Secretary to the Victorian Minister of Defence, plus William Creswell, then serving as the Commandant of the South Australian Naval Forces.

The Naval agreement entered into in 1891, was now due to expire in 1901, Queen Victoria's Diamond Jubilee fell in 1897, as all Colonial Premiers were to be in London, a Colonial Conference was convened to ponder the question of Empire Defence.

It was generally agreed to continue with the arrangement concerning the Australian Squadron after 1901, but South Australia dissented, their Premier wanted a Royal Naval Reserve to be raised and trained in Australia, using the Colonies contribution to the Squadron. ( in fact, this was Creswell's suggestion, using his Premier as his mouthpiece ) But this proposal was put aside.

Collins argued for the establishment of a distinctly Australian Navy, and the then Governor of Victoria, Lord Brassey supported the concept of developing a Naval Reserve.

But in 1899, with Federation of all the Australian States imminent, a Conference of Colonial Naval officers was convened, and they outlined a scheme whereby the available Naval Defence of Australia could advance and grow with the development of an Australian Government.

This report fell on stony ground in England, both in the Public and Private sectors.

But Collins kept at it, he stated the obvious, one of the chief functions of a new Federal Parliament, would be to plan and provide for the defence of Australia, as he urged: Do not forget, Australia is an Island Nation!

It was almost a decade after Federation in 1901, before the Collins view prevailed, he became Secretary of Defence, leaving Creswell to pick up the torch of Australian Naval aspirations. In 1904, Creswell assumed the duty of Director Of Naval Forces, and became a member of the Naval Board.

It was in that same year that Japan destroyed Russian ships at anchor at Port Arthur, in an early display of Pearl Harborism, and the remaining Russian Fleet was also destroyed.

The Russian Baltic Fleet was ordered to sail to the Far East, only to suffer a massacre at the hands of Admiral Togo's efficient Squadron, a new Naval force was alive and well in the Pacific.

Britain renewed the Anglo/Japanese Treaty of 1901, leaving Japan free to walk the beat of her interests in the Pacific, and by 1907, Japan was identified as a clear threat to both Australia's interests and security.

American Great White Fleet.
Prime Minister Alfred Deakin announced a compulsion for Military training as a plank of Government policy.

Now the American Grand Fleet, also known as: The Great White Fleet, visited Australia through the direct invitation of Deakin, but he did not channel his invitation through Whitehall, but went directly to America.

This Fleet included 16 Battleships, with supporting Auxiliaries, and the visit was deemed a huge success.

Fisher now replaced Deakin as Prime Minister, and the Labor Party had long been a supporter of a Navy for Australia, it now placed an order for three destroyers of the River Class, with two to be built in the United Kingdom, and the third assembled in Australia.

The first ship, HMAS Parramatta was launched in 1910, followed by Yarra, and Warrego.

Fisher now departed in favour of Deakin once again, and a 1909 Conference to review Naval Defence of the Empire was attended by both Deakin and Creswell.

It was proposed that any Dominion Government desirous of creating a Navy should aim at forming a distinct Fleet Unit, consisting of: One armoured Cruiser of the new Indomitable Class, three unarmoured Cruisers, six Destroyers, and three Submarines.

All to be manned as far as possible by Colonial Officers and men.

In Australia's case, the British Government offered to replace their annual subsidy with a contribution of 250,000 Pounds, to assist the Commonwealth in assuming the cost of the proposed Fleet Unit.

Australia accepted this offer, the cost of this Unit estimated at 3.7 Million Pounds, plus a yearly charge of 600,000 Pounds. Defence has never come cheaply, and this large amount must have strained the coffers of a relatively new Commonwealth treasury.

Parliamentary approval was gained on the 24th. of November 1909.

By 1910, Australia began to take shape, and all tenders including those for two Submarines had been accepted by the year's end.

Fisher once again became PM. he and Deakin seemed to take turns in governing Australia in those early days of Federation.

He quickly cancelled the offer of an annual subsidy from Britain, and offered to cover the cost of all ships from revenue, it would appear he did not want Britain able to dictate terms to the Australian Navy via their annual subsidy. He wished for complete independence in the control of our fledgling Navy.

In 1911, the Naval Board was restructured, Creswell, now a Rear Admiral , remained as the First Naval Member, he was knighted shortly thereafter, and was joined on the Board by three other members, Captain Bertram Chambers , Engineer Captain William Clarkson, and Staff Paymaster Henry Manistry.

Creswell is now rightly recognised as the Father of the Royal Australian Navy, and, on the 10th. of July in 1911, King George the Vth. granted our infant Naval Service the right to style its self Royal, the RAN counts that date as its official beginning.

However, the Australian Navy came into being with Federation in 1901, and has just celebrated its first 100 years of service to the Australian Nation.

Conclusion.
Now, well over 200 years since my country was founded, and 100 years since its own Navy became reality, I believe, as an Island Nation, we still need to turn our eyes to the sea.

With the threat of global terrorism, emphasised by the Bali Bombings on the 12th. of October this year, our need for a strong two ocean Navy based on both our East and West coasts is more paramount than ever.

HMAS Australia, Battle Cruiser, built for the fledgling Royal Australian Navy, arrived in Sydney in 1913