Introduction.
In WW2, the British Merchant Navy suffered losses of some 32,952 personnel from a total strength of about 185,000. This figure represents a loss of 17.8%, and compares unfavourably with losses of 6% for the British Army, 9% for the Royal Air Force, and 9.3% for the Royal Navy.
These enormous losses would have been even higher were it not for the 29 Rescue Ships which became operational from January 1941, and served until April 1945.
A Rescue Ship at sea with a convoy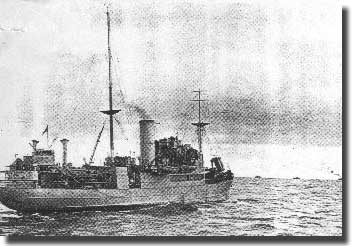 These little vessels became the unsung heroes of the Battle of the Atlantic, and, in this context, I include the Russian Convoys to Murmansk, as being a patch stitched into the North Atlantic Quilt.

The brain child of Admiral Sir Martin Dunbar-Nasmith, VC.
Rescue Ships were the brain child of the then Commander in Chief of Western Approaches, Admiral Sir Martin Dunbar-Nasmith, VC. who, on the 22nd. of September 1940, wrote to the Admiralty, setting out his views on the unsatisfactory arrangements for rescuing Merchant Seamen after their ships had been sunk by Aircraft or U-Boat action. In part he wrote:
If convoy escorts are to feel free to carry out their proper offensive role, and the morale of the Merchant Navy is to be kept up, it is considered essential that there should be Picking Up Ships, following astern of convoys, and transferring from outward to inward convoys with the escort. It is requested that the necessary ships may be taken up and sent to convoy ports.
The Admiralty Acts.
For once the Admiralty acted with some alacrity, and, the first Resue Ship, the 1,875 ton Houtestroom, was taken up in December 1940, to become operational on the 11th. of January 1941.
Description of Rescue Ships.
Basic requirements for these vessels were:-
( i ) A low freeboard, to enable survivors to be easily hauled over the side to safety.

( ii ) A speed of 11 to 12 knots, so they could regain the bosom of the convoy after fulfilling their rescue duties astern of a convoy.

( iii ) To be fitted with rescue boats, ( originally oared, but eventually powered.) Carley floats, booms, float nets, grab hooks, hoists, and scrambling nets.
These ships were fitted with a Sick Bay, an Operating Theatre, and carried a Medical Officer and a Sick Berth Attendant.
Rescue Ship sick bay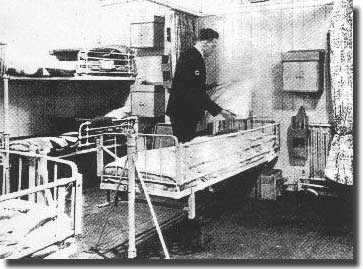 In wartime, Merchant Ships needed to carry a crew in excess of 100 men before they qualified to have a doctor on board.

Rescue Ship operating theater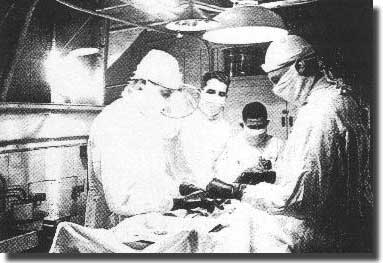 Record of Rescue Ships.
In all, these little ships, were on average but 1,500 tons, and they sailed with 755 convoys, to rescue 4,194 survivors, who claimed 15 different Nationalities.
Amongst these survivors were 4 ex U-Boat sailors, who had good reason to be thankful to a Rescue Ship for saving them from a certain death in the freezing waters of a North Atlantic winter.
Out of the 29 Rescue Ships commissioned, 6 were sunk whilst carrying out their function ( including Zaafaran, which was lost on the 5th. of July 1942, when part of the infamous Convoy P.Q.17, and by a quirk of fate, she had been built in Germany destined for service in the Levant ) and a furher 2 were found to be unsuitable for their role, and were withdrawn from service.
Boost to Morale.
These small ships, besides their life saving role, gave an immense boost to the morale of Merchant Seamen, and, as they were fitted with a heavy armament for their size, and carried high frequency direction finding equipment, they played an important part in the constant threat from and struggle against the menace of the U-Boats, and German Aircraft.
The Escort Commander was relieved from the anxiety of rescuing torpedoed survivors, and could concentrate on his main task: "The safe and timely arrival of the Convoy."
Conclusion.
The initiative of the Commander in Chief of Western Approaches leading to the introduction of Rescue Ships, provided the opportunity for these ships and their magnificent crews to write their selfless service into the history of British Maritime Warfare.
Winston Churchill could well have said:
"So much was achieved, by so few, for the benefit of so many!"
Bibliography.
Merchant Seamen During the War, Journal of the Institute of Actuaries, Vol LXXXIII,Part 11, No.337.

Schofield,B.B, and Martin ,L.F, The Rescue Ships, William Blackwood and Sons, Edinburgh and London, 1968.

Strength and Casualities of the Armed Forces and Auxiliary Services of the United Kingdom 1939-1945.