We've moved to an improved host, please update your bookmarks. You will automatically be directed to the new site but if you aren't, please click here: http://ahoy.tk-jk.net.
The letter telling me I was awarded A Queen Elizabeth Coronation Medal
Letter from the Official Secretary to His Excellency the Governor General of Australia, informing me, I had been awarded Queen Elizabeth's Coronation Medal, struck to commemorate her accession to the throne. I had just completed my appointment as Aide-de-Camp to the Governor General which I had held for 2.5 years, and gone back to sea joining the Aircraft Carrier HMAS Vengeance.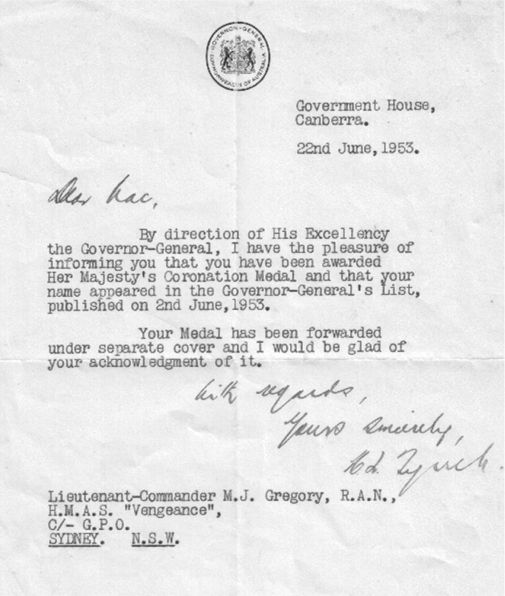 Back to weblog home
This site was created as a resource for educational use and the promotion of historical awareness. All rights of publicity of the individuals named herein are expressly reserved, and, should be respected consistent with the reverence in which this memorial site was established.
Copyright © 1984/2002 THE NAVAL HISTORICAL SOCIETY OF AUSTRALIA, INC and Mackenzie J. Gregory All rights reserved