Introduction.
The Blue Star Line which came into existence in 1911, had a fleet of ships which totalled 381,000 gross tons, at the time the British Prime Minister, Neville Chamberlain, at 1115 ( 11.15AM ) Greenwich Mean Time on the 3rd. of September 1939, broadcast the following message to the British public:
"Consequentally this country is at war with Germany.... And now that we have resolved to finish it, I know you will all play your parts with calmness and courage.... It is of vital importance that you should carry on with your jobs.... It is the evil things that we will be fighting against, brute force, bad faith, injustices, oppression and persecution, and against them I am certain that right will prevail."
With those words, we in Australia, at 2115 ( 9.15PM ) Australian Eastern time on that fateful Sunday evening, also went to war against Germany, as did the Blue Star Line with its fleet of merchant ships.
In Germany.
Also in that September, on the first day of that month, Admiral Donitz, Flag Officer in command of U-Boats, set the scene, in an official memorandum:
"The Navy's principal task in the war is a struggle against England, and the one and only possibility of bringing England to her knees with the forces of our Navy, lies in attacking her sea communications in THE ATLANTIC. So long as we do not have sufficient numbers of surface forces which are suitable for this task, it will fall to the U-BOAT ARM.... I believe that the U-Boat will always be the back bone of warfare against England, and of the political pressure on her."
A prophecy comes true.
How prophetic those words from Donitz were to become, by the end of the 1939-1945 WW2, U-Boats in the Battle of the Atlantic which raged over 68 months of the war, had destroyed 2,775 British, Allied, and Neutral Merchant Ships of about 14.5 Million gross tons. On the other side of the ledger, the Imperial German Navy had lost 781 U-Boats.
Tuscan Star P 2.
We should never lose sight of the fact that after the fall of France in June 1940, Britain, aided by her then Dominions, Canada, New Zealand and Australia, stood alone, for the cause of freedom against the might of Germany, until America finally joined us on the 7th. of December 1941, through the unprovoked attack by Japan on Pearl Harbor.
November 1941.
It was in November of 1941, having just completed my Sub-Lieutenant's courses at Royal Navy establishments in England, I joined the Blue Star Motor Vessel Tuscan Star, docked in Liverpool, and with 11 other passengers sailed for a passage home to Australia, and an appointment to the Australian Fleet.
On that voyage, I shared a cabin with one of my 1936 fellow entrants at the Royal Australian Naval College, it was Red Merson, a future Commodore of the RAN.
Tuscan Star.
This ship had been built as a Motor Vessel of 11,400 tons in 1930,and usually carried refrigerated cargo on her return journeys to England, and general cargo on the outward legs of her voyages.
We sailed from Liverpool all alone, skirted Northern Ireland, and shaped a course for Greenland, then turned westwards for the North American continent. Then hugging the eastern seaboard of America, we sailed for the Island of Aruba, where we bunkered, then moved to Cristobal on the Atlantic side of the Panama Canal.
The Panama Canal.
The construction of the canal took 10 years, using 35,000 workers, with the first ship taking passage on the 15th. of August 1914.
From the Cristobal side, one first travels south past Colon, through Limon Bay as you approach the Gatun Locks where your ship is lifted 26 meters to Gatun Lake. You now travel through an excavated channel to Miraflores Lake, then negotiate a further set of locks to lower the ship about 9 meters to the Pacific tidewater level, thence past Balboa, and on out into the Gulf of Panama. The total time from Atlantic to Pacific is 7 to 8 hours.
This 64 kilometer journey saves about 12,600 kilometers from the voyage around Cape Horn at the tip of South America.
I was amazed at this engineering feat, bearing in mind that the canal was built through an area infested with mosquitoes which spread both Yellow Fever and
Tuscan Star P3
Malaria, and needed to be sanitized before any work could begin.
I believe it was in the year 2000 that the Panama Canal reverted to the Republic of Panama.
Pacific Ocean.
Now in the Pacific Ocean we made for Melbourne, and for me home, I had been away for about 18 months.
The ship carried a deck cargo of wooden crates, containing Avro Anson Aircraft destined for the Royal Australian Air Force, but no sooner had we cleared the canal, when a number of these crates started to emit smoke, then caught fire. It seems that in Cristobal, some explosive chemical devices were secreted into these crates, they then, with time, activated, causing the fires. Amid high drama, these burning crates were hoisted up off the deck and dumped into the sea.
Melbourne, Pearl Harbor Day.
Tuscan Star arrived at the Rip, the entrance to Port Phillip Bay, we entered, steamed up the Bay to enter the Yarra River, and dock at Victoria Docks.
I was home at last, and it was the 7th. of December 1941, Japan had attacked the American Pacific Fleet at Pearl Harbor, this action of course brought the United States into the war, at last we were no longer alone in this war, our future victory now seemed ordained.
I was pleased to be home again, never feeling very safe when forced to take passage in a Merchant ship, particularly across the North Atlantic, earlier in 1941, I had travelled in the Empress of Japan, a troopship, from Colombo in Ceylon, via India and Cape Town to the Clyde in Scotland.
After a short leave, I was back at sea again, joining HMAS Canberra, to be still on board when she was sunk at the Battle of Savo Island, on the night of the 9th. of August 1942.
Tuscan Star.
I was aware that this ship had been sunk some 9 months after I sailed in her, but did not know the circumstances surrounding her sinking, until I recently read a book about U-109, published in 1997.
On the 6th. of September, 1942, Tuscan Star was just north of the equator, off the Gulf of Guinea, homeward bound from Buenos Aires, via Santos in Brazil, and Freetown, with a full cargo, including 7,300 of frozen meat.
Tuscan Star P 4
The ship was carrying 25 passengers and had a crew of 88, and was sighted by U-Boat 109, crossing her bows, and steaming at about 13.5 knots, it was close to 2100( 9 PM. ) At a range of only 800 yards, two torpedoes were fired, both hit the starboard side, one in Number 5 hold, the second in the Engine Room.
German U-Boat WW2

Ten minutes after these torpedoes struck Tuscan Star, U-109, reported reading her emergency message:"SSS SSS 01 degrees 34 minutes North, 11 degrees 40 minutes West, Tuscan Star torpedoed, sinking quickly, SSS SSS."

Aboard Tuscan Star, orders were immediately given to abandon ship, all boats with the exception of the motor boat, damaged in the explosion, were lowered, manned, and pulled away from the ship within 10 minutes, only 4 minutes later, the ship took her final plunge, and slipped beneath the waves.

U-109 surfaced, and observing both women and children in the life boats, passed cans of condensed milk and chicken down to the survivors. This U-Boat was on her way home from a lengthy patrol, and food on board was indeed scarce, so this gesture by her Captain, was indeed a humane one.

U-109's account of this action includes a quite bizarre report, Seidel, one of her crew, when passing over the provisions, had noticed a very pretty young woman, dressed in a fur coat, and little else. The coat opened to reveal her breasts, "Captain, he shouted, shine the light over here, I would like one more look at the beautiful girl!"

The bridge obliged, but alas! too late, the said young lady had drawn her fur coat to close across her breasts.

The U-Boat now picked up speed, and disappeared into the night.

The 3rd. Officer's boat leaked badly, and all its occupants were transferred to the Captain's boat, by the following morning three boats had set sail steering northwards, with a reasonable southerly wind behind them, they made good some three knots.

The Captain's boat gradually lost touch with the two other boats, and at 1500 ( 3 PM ) on the 7th. it sighted the Orient Line's Otranto who took them on board, dropping these survivors at Freetown the next afternoon. They were all home in Liverpool by the 25th. of September.

The other two boats also made it to safety, but 9 men were lost when the ship sank.

By war's end, the Blue Star Line had sacrificed 29 of its original fleet of 38 ships, playing its part in the war effort.

U-109 was to receive her own comeuppance the next year, being suprised whilst on

Tuscan Star P 5

the surface, she was stalking Convoy HX 236, out of New York bound for the United Kingdom.

On the 7th. of May. 1943, a Sunderland Flying Boat, piloted by Flight Lieutenant Geoffrey Rossiter from 10 Squadron, Royal Australian Air Force, attacked with 4 depth charges set at a shallow depth, and followed up by dropping another 4 depth charges from a broadside position.

Sunderland Flying Boat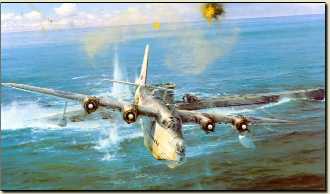 U-109 began to move in tight circles at about 5 knots, it appeared that her rudder was jammed, over the next 20 minutes, she trailed oil, then slowed to a stop with her stern awash.
Although fully surfaced the whole time, no crew members were ever evident, and it must be assumed that the depth charge attacks had buckled her hatches, thus entombing her entire crew, all 52 of whom perished.
Within 30 minutes of the attack by this Sunderland commencing, U-109 sank stern first, at 1500 ( 3 PM.)
The unrelenting U-Boat War had claimed another German Submarine, and Tuscan Star was finally avenged.
Bibliography.
Taffrail, Blue Star Line at War, 1939-1945,W. Foulsham and Co, Slough England, 1973.

Brooks, G, as told by Wolfgang Horschfeld, Horschfeld, The Story of a U-Boat N.C.O. 1940-1948, Orion Books Ltd, London, 1997.