We've moved to an improved host, please update your bookmarks. You will automatically be directed to the new site but if you aren't, please click here: http://ahoy.tk-jk.net.
Letters
Titanic Anniversary Cover
12 Oct 2002
The following E-Mail just came in, and I thought we might start off a section as you suggest with this one and its attachment.
I do have approval to reproduce it, I asked James if we might use it and he came back in about 5 minutes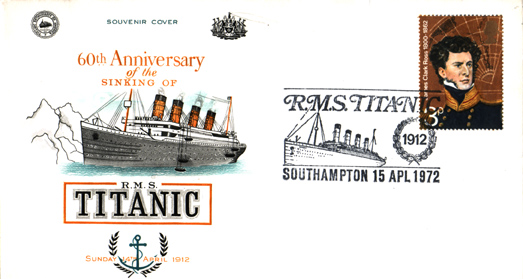 indicating no problem!
Dear Mac, Came across your site while browsing and thought you might like this. It is a first day cover of the 60th Anniversary of the sinking of the Titanic. Best of luck with your website. Best Wishes James Colmer
Titanic Anniversary Cover
Back to weblog home
This site was created as a resource for educational use and the promotion of historical awareness. All rights of publicity of the individuals named herein are expressly reserved, and, should be respected consistent with the reverence in which this memorial site was established.
Copyright © 1984/2002 THE NAVAL HISTORICAL SOCIETY OF AUSTRALIA, INC and Mackenzie J. Gregory All rights reserved