Jervis Year 1936, Click to see the big picture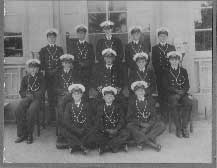 Introduction.
In January of 1936, 13, thirteen year old boys (click here for big picture) who were drawn from Victoria, New South Wales, and South Australia, came together as the Jervis Year, at the Royal Australian Naval College, which was located at Australia's main Naval training depot, HMAS Cerberus at Crib Point Victoria.
They had been chosen in 1935, from many applicants around Australia who undertook a written examination, then a medical examination, to finally be interviewed by a Board of Naval Officers, who had selected just 13 of them to join the Royal Australian Naval College as Cadet Midshipmen, and undergo 4 years of rigorous training to become Naval Officers in His Majesty's Royal Australian Navy.
Signing up.
I was one of those 13 boys, my father had undertaken that I would educated by the Commonwealth of Australia at one of the most exclusive colleges in the country, I would be maintained over those 4 years, my uniforms, medical care etc all provided without cost. He also signed a document on my behalf, that after graduating in four years time, I would serve as a Naval Officer for a further 12 years.
This group alphabetically were:
Myself: Mackenzie Gregory, Jack Lester, John Lorimer, twins, Neil McDonald, Hugh McDonald, Laurie Merson, David Nicholls, Ian Nursey, Max Reed, Bob Scrivenor, John Shearing, Rupert Treloar, Norm White.
Four Years of Cadets at the RANC.
At the College, there were in all, four separate years or terms of Cadets.
From the oldest fourth year to my group of first year Cadets, each separate year took the name of a well known Naval Officer, and we were known as the Jervis Year, named after Admiral John Jervis who became Earl St Vincent, and was Nelson's Admiral at the battle of Cape St Vincent. Our year of 1936 were the 23rd. entry into the Naval College since it was founded in 1913, and as I happened to be the first in alphabetical order in my term, I was the 425th. Cadet to enter the RANC.
Ian Arthur Nursey.
One of our original 13, was Ian Nursey, his appoinment was terminated early in our first year, and I don't recall ever knowing why he left us. He later enlisted in The Empire Air Training Scheme, and in April 1941, graduated as a sergeant-pilot.
Ian now served as an air crew member in the Middle East, was made a flight-sergeant in October 1941, but was reported missing on the 30th. of May in 1942, and was presumed to have been killed in action on that day.
Four action packed years.
The years of 1936-August 1939, were spent with the hours and days crowded with studies, sport, we were involved in all sports, hockey, cricket, rugby union, soccer, tennis, squash, rifle shooting, sailing, athletics, swimming etc, the occasional visit to the city for a sporting fixture against one of Melbourne's Public Schools such as Scotch College, glorious leave between each of the three College terms, and a mid term camp in the local area.
After being absolute dog's bodies for the three terms all senior to us in 1936, we returned to the College in 1937 to find a new first year in residence, all our juniors, quite blissful. By one's fourth year, you were absolutely cock of the walk, all very wonderful.
At the end of each year, a very elaborate Passing Out Ceremony was held on the Parade Ground, performed by the all the four years of Cadets, all done without orders, but on a specific beat of the drums in the Naval Band. The finale found all the Cadets drawn up in line abreast advancing across the Parade Ground towards the saluting base, and then halting in front of it, but in a perfect line. It took a lot of training to get it absolutely right, and woe betide any Cadet stupid enough to muck up a rehearsal, let alone on the actual day.
One's behind would feel the wrath of a size ten gym shoe applied with vigor to it, for at least six wallops.
The fourth year would complete their final year with a Passing out dance when girl friends would join in the festivities.
War clouds in August 1939.
With our second term completed in our final year, we were all set to go on our final leave prior to returning to the College to complete our third and final term, face our final examinations, which included the usual secondary school subjects and French, Calculus. In addition, we had to cope with Naval Signalling, which included reading and sending messages by semaphore and morse code, knowing Naval flags and their meaning, Seamanship, Naval Engineering and Naval History. An extra requirement was the need for each Cadet to have gained the Life Saving Society's Bronze Medallion in swimming and life saving techniques.
Final Divisions.
The four years of Cadets were drawn up in front of the College for our final Parade at the end of Term 2, the Commander in Charge of us then announced:
Years 3, 2 and 1 will now proceed on leave, Year 4 will remain at the College to carry out some extra courses before joining the Fleet. Leave is a privilege not a right. Cadets dismiss!
After a further two weeks or so, the 12 of us proceeded to Sydney and all joined the 8 inch County Class Cruiser HMAS Canberra on the 30th. of August 1939.
War is declared.
On Sunday evening of the 3rd. of September 1939 , Robert Menzies, the Australian Prime Minister announced to the nation, that as Britain was at war with Germany, we too were at war. My life was about to be changed for ever.
Thursday the 7th. of September 1939.
The sister ship to Canberra, HMAS Australia just out of a refit, and now commissioned, taking my hammock and gear with me, at 0730 (7.30 AM) she became my new home, as I joined her with five other Cadets from the class of 1936.
I was allocated to the Quarterdeck Division.
The Map of Europe as I drew it for my Midshipman's Journal on the 12th, of September 1939, it depicts Austria and Czechoslovakia as part of Germany after she had invaded both countries.
Three of my term elect to become Engineering Officers.
John Lorimer, John Shearing and Max Reed, all elected to specialise as Engineering Officers and left for the Royal Navy School of Engineering based at Plymouth England, leaving the remaining 9 of us as Seaman Officers spread between both Cruisers Canberra and Australia. The latter ship proceeded to the United Kingdom to join the British Home Fleet based on Scapa Flow, arriving there not that long after the masterful withdrawal conducted at Dunkirk.
Seamanship examination for Acting Sub Lieutenant.
Those of us in Australia took our Seamanship exam in the old cruiser Emerald at Colombo in the country still called Ceylon at that time, we all passed, and were promoted to Acting Sub Lieutenant, leaving our ship which had been home for over 18 months and going ashore in Ceylon to await a passage back to England to attend our courses for Sub Lieutenant. Australia set sail for home, and we spent three lovely weeks ashore in Ceylon staying in a hotel or at a rest camp up country, a wonderful break from the daily grind at sea.
The move from Midshipman to Sub Lieutenant is probably the largest one makes in a career as a Naval Officer. A Midshipman has been described as "The lowest form of animal life in the Navy." We all shipped our first Gold stripe on our uniforms, on passing our courses, we would be Commissioned in the Royal Australian Navy, and very importantly, our pay improved from 6 shillings a day (in todays money, 60 cents a day) to 11 shillings a day (ie 1 Dollar 10 cents today)
Passage back to England.
After three weeks of idleness in Ceylon we finally joined the troopship Empress of Japan, filled with Indian troops to man anti-aircraft gun installations in Britain, and sailed for Scotland. This ship was run by the Army, and there is not much worse than being at sea in a ship run by and controlled by the Army. We were so crowded, and many of the Indian troops cooked on deck using Ghee to do so, the invading smell was overpowering. We were pleased to have made the passage safely through the forbidding Atlantic Ocean to arrive and get on with our courses.
May to October 1941.
It was over this time that we studied Navigation, Gunnery, Torpedoes, Signalling etc at the various Royal Navy Schools, the Navy had taken over the famous Rodean Girl's school at Brighton for it's Signal Courses, we were housed in a Hotel on the seafront, and from time to time were subjected to bombing raids, as of course we were when at schools in the important Naval port of Portsmouth.
At Rodean, we were fascinated to find notices still around in classrooms which read: "If you want a Mistress during the night, please ring!" Alas, as much as we pounded those bells, we were unable to elicit the wanted response.
Homeward Bound.
A number of us, myself included, took passage back to Australia in the Blue Star vessel Tuscan Star, we sailed via the Panama Canal which I found most interesting.
This trip, and the sinking of Tuscan Star on her next voyage will be covered in a future article to be posted on my Web Log.
I was finally home after almost two years absence, arriving on Pearl Harbor Day, that infamous 7th. of December 1941, when the sneak attack by the Imperial Japanese Navy without any declaration of war, put the Allies on the final road to victory, albiet some years ahead.
Scattering of the Jervis Year members.
All of the Jervis Year were now scattered in ships around the Fleet, but on occasion some of us served together in a particular cruiser.
As a Sub Lieutenant, Jack Lester was killed in action in HMAS Perth in her Battle of Sunda Strait in March of 1942, and Norman White became a prisoner of the Japanese to happily survive the war.
Rupert Treloar when serving as a Lieutenant in HMAS Napier was reported missing, presumed drowned on May 5th. 1943, off the east coast of Africa.
We were now down to 10.
Post war, Robert Scrivenor, when a Captain RAN, was involved in a car accident which killed him.
Now we are 9.
50th. Anniversary of entering the RANC.
To mark the 50th. anniversary of our joining the RAN, in 1986, the 9 of us with wives, plus Bob Scrivenor's widow Margaret, (all the 9 of us had married, and were still with the girls we had married) , met in Sydney, over two days. We had a special dinner at HMAS Watson, perched high above South Head, and looking up Sydney Harbour to the famous bridge. A most enjoyable reunion was had by all.
We all turn eighty years of age.
Over the year 2002, all 9 remaining members of the Jervis Year of 1936, reach the age of eighty. The date of the 15th. of July fell as the median date for our birthdays.
Max Reed organised us to all come together at the Sydney Yacht Squadron on that date for a reunion Luncheon, Sylvia, Red Merson's wife had organised the use of a private room at the Yacht Squadron, being a member there.
The wives of John Lorimer, David Nicholls, Max Reed and myself had died since our 1986 get together, I had met Denise Richards a widow, on a sunset cruise on the Zambesi River in Zimbabwe in 1994, and we married on the 14th. of August in 1999.
The date chosen for our luncheon happened to be the 8th, anniversary of our first meeting back in 1994.
Luncheon 15th. of July 2002.
This venue, situated on one of the most prized pieces of real estate in Australia, looking up wonderful Sydney Harbour on a sunny winter's day, could not have been chosen better. John Lorimer brought his Daughter, Margaret Scrivenor her Daughter, David Nicholls his Daughter and Son in Law , whilst Max Reed was accompanied by his friend Lesley Millar, the widow of a College Cadet senior to our year. We met at midday, and were still all yacking away at 4PM, recalling specific great times, and stories of special moments were all given an appropriate airing.
A truly wonderful meeting, topped off, when Max Reed, who had risen to become an Engineer Rear Admiral, and now in retirement, dabbled as a very competent metal smith, produced for each of us, a magnificently crafted silver spoon with a twisted stem design, and topped with an exquisite Naval Crown.
Each spoon was engraved with our Jervis Year Number, in alphabetical order we were known as J1 to J12, and this number was used to identify footware, clothing etc, I was J1, so my spoon has that engraved on it at the top, a truly masterful touch, and a tremendous and generous gift to mark such a great reunion for us all.
Conclusion.
The links forged between us, over four tough years at the Royal Australian College from 1936 to 1939 have remained strong and resiliant over the ensuing 66 years, we may not see each other for a long time, but if any one needs support, you may be sure, the remaining members will rally and provide it unstintingly.
We may all be at the fag end of our lives, but long may The Jervis Year Flourish.
The Map of Europe as I drew it for my Midshipman's Journal on the 12th, of September 1939